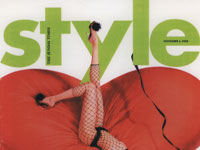 The Sunday Times Style
Goude Heavens
Nov 06, 2005
By Colin McDowell
You may not know his name, but you certainly know his work: the television adverts for Egoïste, Vanessa Paradis as the songbird for Coco by Chanel, the 1989 French bicentennial parade in Paris, Grace Jones as a caged animal, and much, much more.

In 30 years of creativity, Jean-Paul Goude's imagination — profiled in the new book So Far So Goude — has been let loose on a wide range of artistic styles and statements. As an image-maker, he astonishes and delights, combining wit, visual audacity and high-camp style. As a master of the unexpected, he stretches and distorts reality in order to amuse and entertain. He loves to break the visual rules and shake things up.
Goude opens the door himself when I visit him at his house, overlooking Paris. Little, lithe and aged 65, he has the face of Mick Jagger, but an energy and humour that are entirely his own. Born of an Irish-American mother and a French father, he was brought up in a middle-class suburb of Paris, but began his real career when he moved to New York as art director of Esquire. His work there was revolutionary, but it was the Grace Jones years of the late 1970s and early 1980s, his book "Jungle Fever" and his MTV videos that have made him one of the most influential visual pioneers of the late 20th century. Everything he does involves taking great risks and still pulling it off. As he says: "I am a total perfectionist. I hate compromise. What I do has to be right, and that can be an expensive luxury."
We are sitting in his garden studio, a minimal glass box with a bird's-eye view of Sacré Coeur de Montmartre and books piled everywhere. Almost immediately, we are talking of Jones and sex. "To me, sex can only be about a relationship and only with a woman," he says. "I can look at a man and think, 'You're beautiful,' but I would never want to undress him. I was Svengali to Grace's talent. As long as I seduced her, and she was in love or infatuated with me, I could do anything I wanted with her creatively, because I was constantly admiring and paying tribute to her. It all ended dramatically when she felt I had started to love the character we had created more than I loved her. We're still friends — we have a 24-year-old son — but I still can't help bearing a grudge that it finished too soon."
The cause of the split was Goude's first book, Jungle Fever. When Grace read the chapter about her, she was "so angry and felt so betrayed that we couldn't go on. Creatively, it was just impossible".
Always in need of exotic views, Goude's next infatuation was with the 6ft Algerian beauty Farida, famous as the doorperson at Les Bains Douches in Paris, where she ruled so absolutely that she would turn away superstars if she thought they were drunk or she didn't like the way they were dressed. In her, he saw not the animal passion of Jones but the droll wit of a beautiful and assured woman.
It is his advertising campaigns, however, that show us the true Goude, the man able to express the mood of the moment so perfectly. He claims that his campaign for the Chanel men's fragrance Egoïste sold a million gallons of the fragrance in a few months, which seems entirely convincing. His current campaign for Galeries Lafayette in Paris is a riposte to what he sees as the S&M obsession in fashion, which he deplores. He says, defiantly: "The Parisienne does not need to go to Avenue Montaigne for style. She was born with it. She has chic, rather than elegance." To prove the point, his photographs show us fashionable women not just in relaxed poses but actually smiling and laughing.
Goude's next big thing is perhaps the obvious step. Encouraged by the success of the bicentennial parade down the Champs-Elysées in front of 40 heads of state — "The honour of François Mitterrand and France rested on my concept" — he is planning an opera and a film. The subject, entirely appropriately, will be himself and "my adventure with probably the most exciting and frustrating character in my life. And I know I can pull off this project, because it is basically an exercise in narcissism".
What else would we expect from the man who has taken on sex and race so wholeheartedly throughout his career — and made us gasp and laugh at his audacity all the way?