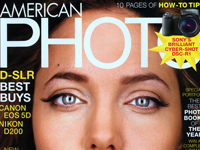 American Photo
The Big Picture
Jan 01, 2006
By Jack Crager
(Partial Article)
In images of both famous and lesser-known subjects, Martin Schoeller explores the question, What's in a face?
As a contributing photographer for The New Yorker, German native Martin Schoeller has taken the photo-verité style of a former colleague, the late Richard Aveon, to a new extreme: Many of Schoeller's portraits are large-scale, warts-and-all, tightly cropped faces, a series known as Big Heads. The 75 headshots in Close Up are literally larger than life. Ranging in subject from the obscure to the ultra-famous, these portraits all share traits of intimate intensity and unflinching honesty. "Even people who seem to have everything express the same fears, desires, longing, and sometimes a certain sense of melancholy," Schoeller says.
Although Schoeller often sets up portraits with various backgrounds and poses, the tight headshot has become one of his specialties—and a departure from the typical publicity photo. "I think portraits should not necessarily try to make people look good. They should capture their personalities," he says. "An ongoing question for me is: What can you read in a person's face? How much does their physical makeup reveal about their character?" When a friend pointed out that he had enough headshots to fill a book, the idea for Close Up was planted. The series has also become a traveling exhibition, with recent shows in Berlin, Germany, and Milan, Italy; the images are on view at Amsterdam's Wouter van Leeuwen gallery from January 21 through mid-March.
With a few exceptions—Bill Clinton looks almost sanguine, Sting wears a slight smirk—these subjects have not only allowed the lens to get close but also let their guard down; we see Tom Hanks looking grief-struck, Cindy Sherman unmasked and unvarnished, Christopher Walken slightly deranged. Schoeller's shot of outgoing news anchor Dan Rather was so revealing that it was called "ruthless" by some New Yorker readers. "When this book comes out, some people, or their publicists, might not like their picture," says the photographer. "But I just continue to do what I think is right and I hope people will understand."