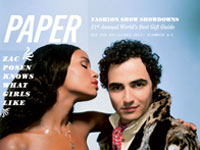 Paper
SEOUL SISTER
Jan 01, 2006
By Mickey Boardman
Creative Visionary Jean-Paul Goude has been inspired by a parade of amazing women; Toukie Smith, Grace Jones, Farida and Laetitia Casta. But the most surprising muse whose spell he has fallen under is Min, the last Queen of Korea.
It was actually Goude's Korean-born wife, Karen, who was behind the couple's creative trip to Seoul. When Karen was an intern at Visionaire, she delivered an issue of art/fashion quarterly to Goude's office in New York. The moment Goude saw her, he was smitten-- and was inspired to read up on Karen's native land. That's how he stumbled upon Empress Myongsong, commonly known as Queen Min, who was assassinated by the Japanese in 1895 and who became a martyr to Koreans and a symbol of Japan's cruelty. Goude became obsessed with the story and created a character, played by his wife who is the reincarnation of Queen Min. In Goude's fantasy, Min has come back to hunt down Japanese war criminals. "Why shouldn't the Koreans do with the Japanese what the Jews did with the Germans?" Goude asks.
Hence Min's pose. "She's managed to keep in control of the samurai, the symbol of war and destruction. She took his weapon so he can't harm anyone and she's astride him like a horse. " Goude thinks further and adds, "It's a nice symbol of what the Asians are asking for. You could give it the title "So Sorry.'"
Goude began shooting this character with Karen but their collaboration was interrupted by their marriage and the birth of their two children. They've revived the character for this shot, done especially for Paper.