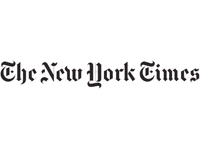 The New York Times
WEEKEND ARTS/ART IN REVIEW
Jan 27, 2006
By Ken Johnson
Erwin Olaf is a successful Dutch commercial photographer whose advertising images for Microsoft, BMW, Nokia and other big companies are irreverent, sexy, funny and surrealistic. Mr. Olaf, also a film makers, is currently working on a feature-length movie called "Captain Tom." And he has a considerable career as a fine artist.
The large, digitally manipulated color photographs in his first show in the United States are less flamboyant than his commercial works but no less imaginative or technically slick. With costumed actors in sets evoking the mid-20th-century Midwest, they look like scenes that Norman Rockwell's mordantly depressed cousin might have painted. Each illustrates a moment in an emotionally charged narrative, with muted color and lighting enhancing a suspenseful, noirish atmosphere: the middle-aged teacher erotically fixated on his Lolitaesque student in an empty classroom; the frumpy housewife lost in her sad and lonely thoughts in her clean, modern kitchen; the impending romance of a pretty young woman and her suitor in an apartment building hallway. Mr. Olaf has also made short videos using these actors and sets, but they are not on view here.
In some cases, psychological resonance is sacrificed for the cheaper rewards of satiric faux-Rockwellism, as in the image of the Boy Scout and his black-and-white mutt in the ice cream parlour. If Mr. Olaf intends a social or political commentary on American culture, it is unclear what he is trying to say. But his best pictures are mysterious and touching.