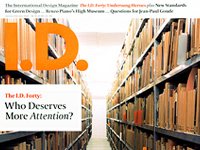 I.D.
Q + A : JEAN-PAUL GOUDE
Feb 01, 2006
By Erin Flaherty
Though he considers himself an illustrator at heart, Jean-Paul Goude has tried on many jaunty caps during his career. At the age of 25, fresh from Paris, he became art director at Esquire. Soon after, in the Manhattan disco scene, he met Grace Jones, with whom he collaborated on now-legendary works of performance and video art, and many iconic images—among them, his album cover for Jones's Island Life, which showed her in a torqued arabesque like a goddess idol. With street cred to spare, Goude went mainstream, creating witty, eccentric advertising campaigns for clients such as Azzedine Alaïa, Chanel (and its Egoïste perfume), Hermès, Louis Vuitton, and, recently Galeries Lafayette. He even directed the epic 1989 French Bicentennial parade. But it turns out that what he wanted to do all along was make a film. The broad sweep of his long career is the subject of his new monograph, So Far So Goude.
Why write an autobiography to accompany the photographs in your new catalog?
In the beginning, the editors thought they were getting a purely graphic-shmaphic coffee-table book. But every picture has meant something to me in my personal life. I needed to explain more.
From the start you were drawn to strong African women. What were your influences?
The Paris suburb where I was born was in the shade of this huge fake rock, built alongside a zoo for an exhibit devoted to the French empire and its colonies. This rock looked like a mountain far away, in an exotic country. You heard lions roar, and then, a few blocks away, there were doors to the monument covered with naked women—African, Asian, and Arabian. It made a deep impression on me.
How did you get involved with fashion?
I'm not as interested in fashion as I am in allure. And I was always concerned with my body's proportions, which were bad. I was a ballet dancer, but I dropped that because I didn't have the regle d'or, the golden rule of proportions. I tried to change that, starting with lifts in my shoes. And then I got a little more daring, and I started putting shoulder pads in my T-shirts, and suddenly I started to look like something, you know. This is why I was always close to Azzedine Alaia. He made clothes that acted like prosthetics.
How did you meet Grace Jones?
When we met, I thought, "Wow, I got me a disco star!" Her shows were super tacky. I didn't want anything to do with them. But I decided to get involved after the Studio 54 opening, when she was in tears after her show. It was a disaster: gaudy, tacky guys in string bikinis with bumps on their asses. I thought she was too young, too promising, to be just a fag hag. I said [heavy French accent], "Well, here I am, I am from Paris!" The next day, we're on tour together. Life and work combined. In the morning, I'd say, "Why don't you get some roller skates for the show, instead of all the disco stuff?" I started imagining these radical shows. At one point she did nothing on stage—just stared, and intimidated her crowd. It was a shock for everyone.
How did you segue into advertising?
Jungle Fever, my first book, came out, and the video of Grace came out with all the clones. At home I was a hero, but I didn't notice that in New York. This French guy asked, "Have you ever tried advertising?" I told him I wanted to keep with the fantasies I had started with Grace. So he asked, "Why don't you do it with us?" So, I took some of the characters I had invented, and we came out with this 30-second opera for the Lee Cooper clothing line, based in part on Stravinsky's Rite of Spring.
Do you consider advertising art?
In 1987, people were asking that when I had a show at MoMA. It didn't concern me until I got a review in a very hip magazine that accused the curator of pandering to the crowds. I was a little shattered, because despite other good reviews, this guy was the most important to me. I went back to advertising and then got the job with Mitterand to do the Bicentennial.
What was most memorable about the Bicentennial celebration?
Every country had a theme. The Russians came under a curtain of fake snow, with ice skaters, the sailors of Eisenstein movies, and people marching alongside floats with a constructivist motif. There were locomotives showing the industrial revolution. For France's part, I mixed French rhythms and African rhythms, because I don't think anybody's got a monopoly on rhythms, and there's no reason why they can't all play together. Margaret Thatcher was there pretending to be happy. There were a million people—it was a night to remember because France was on this positive high. The multiracial utopia was the thing to do, and that night there was not one incident, not one fight. Nothing.
What's next?
A musical film—something I've wanted to do all my life. The one I'm working on is basically focused on my adventure with Grace, and her redemption. The main character is a real-life Pepe Le Pew who wants to direct the career of this woman. It's all about the tension between Pygmalion and his Galatea. She's sick and tired of holding the pose and so she just fucks up the show and their relationship. And then my wife, Karen, comes in as the Queen of Seoul. She sings in the voice of Aretha Franklin about all the awful things that the Japanese did to the Koreans and Chinese, and sorts out all the criminals by forcing them to apologize. But years go by and my character starts with his Galatea one more time.