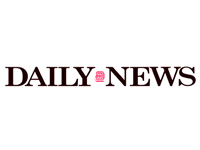 Daily News
Sizing up Celebrities
Jun 18, 2006
The German-born lensman makes his U.S. debut with "Martin Schoeller: Close Up," until Sept. 1 at Hasted Hunt (529 W. 20th Street, third floor) displayed in conjunction with his book "Close Up: Portraits 1998-2005." The large-format head shots-up to 40 by 50 inches-present celebrities and notables in such a way that eyes become captivating focal points. Through the use of lighting, Schoeller illuminates his well-known subjects (including, clockwise from top left: former President Bill Clinton, Angelina Jolie, soccer legend Pele, and Christopher Walken).
Also mesmerizing are the magnified imperfections: Wrinkles get deep and pronounced; pores dot the faces; stubble, scars, leftover makeup all surface. With these vulnerabilities, Schoeller humanizes the famous.
American Photo magazine recently named Schoeller one of its "100 Most Important People in Photography." He has been a contributing photographer for the New Yorker since 1999, and his shots have appeared in Rolling Stone, Entertainment Weekly, and GQ.