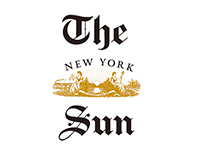 THE NEW YORK SUN
ERICH SALOMON - MEN BEHIND CLOSED DOORS
Sep 21, 2006
WILLIAM MEYERS
Sept 21, 2006
Erich Salomon was an exceptionally clear-eyed photographer, and he is indispensable to understanding the history of photojournalism. His innovations and sometimes antic methods helped transform the content of newspapers and magazines in the period between the two world wars, and they are still with us. "Erich Salomon: Vintage Work" at HASTED HUNT is the first major gallery presentation in many years of a photographer who is not adequately appreciated.
Like Henri Cartier-Bresson, with whom he is frequently discussed, Salomon was born into an upper-middle class family deeply involved in the cultural and artistic life of his native city, in his case the Berlin of 1886. He received a broad education and earned a law degree, for which reason he is frequently styled Dr. Erich Salomon. Four years of his military service in the Great War were spent in a French prisoner-of-war camp, and when he returned to civilian life most of the family fortune was gone. He hustled for a living: acting as a "chauffeur" on motorcycles with sidecars, as a partner in a piano factor, and finally in the publicity department of the expanding Ullstein publishing company.
At one point he needed photographs for a lawsuit his department was involved in. He took them with the company's camera, and his interest in photography was piqued. Soon after he was near the scene of an accident and immediately hired a photographer to take pictures, which he then sold to Ullstein. He was paid 100 marks, gave 90 to the photographer, and the next day bought himself a camera, a small format Ermanox with a fast f.2 lens. Forty-one years old, Salomon met his destiny.
The diminutive Ermanox let him take pictures in places where pictures were not supposed to be taken. One of his first coups was at the trial of a cop killer: The camera was concealed in a bowler derby with a hole cut in the crown. When officials realized what he was doing and insisted on confiscating his negatives, the ones he gave them were unexposed, and the next day his sensational pictures ran in the press. The pictures earned him two months salary; he quit his job and went freelance. That was 1928.
Only two of the 18 Salomon pictures at HASTED HUNT have women in them. Most of the rest are of small groups of men in conversation. But who these men were, and what they were talking about, is part of the reason they were so sought after by editors in the late '20s and in the '30s. Salomon specialized in photographing diplomats, politicians, business leaders, royalty: the establishment in a Europe that was still hierarchal. But he photographed them not at the formal picture sessions that sometimes followed their conferences; he infiltrated their meeting rooms, their salons, their private clubs, and their banqueting halls, and caught them unawares. The public now had access to the purlieus where their collective fate was being hashed out.
"Diplomats" (1934) is a fine example. We do not have enough information about the picture to know who these four men are, or where they are gathered, but they are intent on something of high import. The four are wearing tuxedos, with starched shirtfronts, wing collars, and formal bowties. Three of them have cigars and the fourth a cocktail glass. They sit around a small table in a room whose elegance is suggested by the lace over the window and the decorative painting on the wall behind them. The white-haired gentleman with his back to us is evidently the one talking while the others lean forward, listening and reacting to what he is saying.
By this time Salomon had replaced the Ermanox with a more versatile Leica. He shot without flash by natural light so his subjects were not disrupted. In "Diplomats" it is the three intense faces we can see that first draw us in, then the body language, then the hands. The elderly man to the right of the speaker is holding his hand, an unusual gesture for men at any time, and extraordinary for diplomats: is it to comfort him, to encourage him, or an expression of solidarity? In spite of there being much that is ambiguous in this picture, the drama is unmistakable.
In "Anthony Eden, Lord Burghley, and Kenneth Lindsay After Diner at the Austrian Legation" (1930s), the men are younger, although the tuxes are the same. The men face the camera, but their expressions are no less interesting for their acknowledging Salomon's presence. Their neatly parted, slick hair nails them to their time and place. "Dr. Hendrick Colijn, Left, Talking to Two Members of His Former Cabinet, Ministers Schaik and Lidt De Jeude" (c. 1937) shows the three beefy Belgians at a wedding reception wearing their court uniforms. With their high gold embroidered collars, sashes, and medals, they look like characters in an operetta.
The stories of how Salomon got his pictures are the stuff of legend, and earned him the sobriquet "King of Indiscretion." When the Kellogg-Briand Pact was signed in 1928, Salomon walked into the signing room and took the vacant seat of the Polish delegate. He once made use of a window washer's ladder to photograph a conference at the Hague through the window. He got a picture of the Supreme Court with his camera hidden in a black arm sling. He photographed Chancellor Müller's inaugural address to the Reichstag by walking onto the dais and taking Müller's seat when he got up to speak. The stories are funny, the pictures are history. An art critic of the London Graphic coined the phrase "candid photography" to describe his technique.
Because of his broad cultural background and learning, Salomon knew what he was photographing. The men in his pictures are intelligent and influential, they are aware of their intelligence and influence, but we can see they are not aware that they are neither intelligent nor influential enough to prevent the wreck that was coming a second time to Europe. Salomon, a Jew, left Germany when Hitler came to power. He was offered a position in America with Time-Life and could have stayed in England, but he moved to Holland to be close to the events he felt compelled to record. In 1943 he and his wife and their son Dirk were deported to Auschwitz where they were murdered in the gas chambers, July 7, 1944.