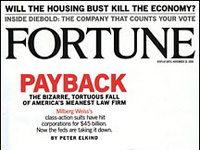 Fortune
BUSINESS LIFE: BUILD YOUR PORTFOLIO
Oct 31, 2006
by Stephen Milioti
If you had wandered into the New York location of Christie's auction house in 1996, you could have purchased a print of Helmut Newton's "Two Pairs of Legs in Black Stockings, Paris" for about $2,300.
Then you could have spent the next decade eating, sleeping or lounging beneath the image of two models wearing only black lingerie and black spiky heels.
The guide: Lowell Pettit checks out Wolfgang Tillman's "Installation" at Phillips De Pury auction house in New York City.
Robert Koch Gallery; 49 Geary Street; kochgallery.com
Had you decided to sell that 1979 photograph at Christie's for $38,400 (as its owner did last month), you would have enjoyed better price appreciation than a comparable investment in an S&P 500 index fund, General Electric stock, or ten-year Treasury bonds. And Newton isn't the only photographer whose prices are on the rise.
In February 2006, Sotheby's (Charts) achieved the highest-ever single-photograph sale price in history, selling Edward Steichen's "The Pond-Moonlight" for $2,928,000. Also in that sale, two portraits of Georgia O'Keeffe by Alfred Stieglitz cracked the million-dollar mark: "Hands," at $1,472,000, and "Nude," at $1,360,000.
At Sotheby's photography auction last month, a rare 1948 print of Ansel Adams's "Moonrise, Hernandez, New Mexico" sold for $609,600, a record for the artist. A recent Christie's auction yielded another record: Robert Mapplethorpe's "Andy Warhol, 1987" sold for $643,200.
Clearly, photography prices are headed into a bull market, yet building a collection remains much cheaper entrée into the art world than cornering the market on old masters or Jasper Johns. It is also more user-friendly.
There is less attitude shown toward fledgling collectors by established photography galleries. And getting started is not that hard if you understand the market forces driving the boom and how best to navigate them.
"I think photography is still hugely undervalued in the scheme of art. It is greatly undervalued in terms of comparison to sculpture and painting," says Joshua Holdeman, international director of photographs at auction house Christie's. "You can buy one of the icons of art history in the photography genre for the same price as a third-rate Renoir sketch."
Breaking down the stigma between painting and photography is a new generation of curators and collectors who can relate to the subject matter depicted in, say, Robert Frank's photograph of a New Orleans trolley (which sold for $204,000 last month) better than to a Peter Paul Rubens painting of porcine 18th-century aristocrats.
A similar de-snobbification happened in the book business a generation ago when the Vintage Contemporary series started publishing literary fiction initially in paperback: Readers who grew up with paperbacks embraced the books.
Photographs also work better as a decorative element in the average residence. A large painting defines a room; photography defines your personality just as well, while taking up less room.
DIY PHOTOGRAPHY COLLECTING
So how do you get a photography collection going? How do you walk into a gallery without hearing your heels click on the shiny floor while a sentinel dressed in black stares at you? And, even more important, how do you avoid getting ripped off?
One of the best ways to demystify the initial gallery visit is to go straight to the top. "Gallery ownership is unlike a lot of professions," says James Danziger, who has been running his own photography gallery since 1989, "because anyone can come in off the street and has a right to speak to the CEO."
He recommends asking the person working in the front of the gallery if you can speak to the owner. If the owner's not in, make an appointment to come back another day.
Neophyte collectors also typically fret over how they can ascertain the value of a photograph because it is a mass medium. As long as a negative exists, they worry that an unscrupulous dealer might flood the market even after agreeing to only make a certain number of prints as part of a limited edition.
"The photography market is self-policing," says Rick Wester, the worldwide director of photography at international auction house Phillips de Pury & Co., by which he means that a dealer would only devalue his own holdings by ginning up unauthorized prints.
"[Besides] the key thing is how far the date of the print is from the date of the actual negative. If you have a negative done in the '20s and the print was done in the '70s, that has a different value from a print made in 1926 in Paris. You can't fake that to any great degree. The materials available in the 1920s aren't available today."
As a rule of thumb, the older the print, the more valuable. But later prints are not to be sloughed off, as they can go way up in value and are much less expensive to start with: A vintage Diane Arbus print, for example, could easily exceed $250,000, but estate prints (which is a print made by an artist's designated representative after his death) can run to less than $10,000.
To determine whether a dealer is reputable, Lowell Pettit, an art advisor based in New York, suggests asking questions about the condition of the work, the history of the gallery, and its relationship with the artist. Also be sure to ask how many editions have been made or will be made of the work (or, if it's an open edition, which means as many can be made as the artist or his estate wishes).
If these basic, important questions are met with blank stares, Pettit recommends heading for the door. He also stresses that while the Internet is fine for browsing, it is a pale imitation to spending time with an actual print, which may involve getting on a plane to New York.
Auction house preview days held twice a year (typically in April and October) are a great way to get started. "You have the chance to take everything out of the frame, judge the print quality, look at the artists' unique signatures and stamps on the back," says Denise Bethel, director of the Photograph Department at Sotheby's.
Gallery owners and auction house executives also recommend spending a year just looking with your platinum card firmly holstered. Think of it as school. During that time develop a strategy: Will you be collecting purely for love? For investment? Or both? Most collectors adhere to a combination of the two.
GET PROFESSIONAL HELP
If you're still serious enough to start writing six-figure checks, consider hiring a reputable art advisor to go with you, or even go for you.
Pettit views the job of an art advisor as helping collectors find art that's both artistically sound and financially smart. Right now he thinks Helen Levitt, the New Yorker known for her gritty urban portraits, is a smart buy. She is "seasoned, well-known, has lots of major museum work - but for some reason people have recently been lucky enough to acquire some of her newer prints at about $5,000."
As for Pettit's cost: His fee structure varies. It can be an agreed-upon percentage commission, based on the price of the artwork. If no art is agreed upon, there's a consultation fee.
But whether or not you hire an advisor, realize that you don't always have to pay a huge amount to own a famous image. "You can walk in here and get excellent work for $2,500," says Bill Hunt, co-owner of Hasted Hunt Gallery in New York, mentioning photographers like Mickey Stager and VII (a hip collective of photojournalists), whose featured work can run to $2,500.
Emerging artists' works are also featured, nearly all for less than $5,000, at fairs such as the annual Affordable Art Fair in New York (there's one in London too) and Art Basel in Miami.
And some collectors prefer the work of journeymen: The Steven Kasher Gallery in New York recently featured a selection of American mug shots of the 20th century, ranging from $500 to $1,000.
Whether you end up buying for love or money, remember that photography is uniquely different from other investments. You can leave savings bonds in a safe-deposit box, but you look at photography every day. That's something to think about before you pull the trigger on purchasing Eddie Adams's photo of General Nguyen Ngoc Loan putting a bullet in the head of Nguyen Van Lem.