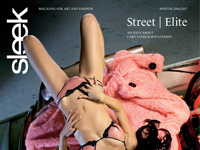 Sleek
Above the Pavement
Dec 18, 2006
by Monte Packham
Andreas Gefeller reveals the inherent, yet unnoticed beauty beneath our feet: cobbled streets, paving stones and the cracked asphalt of a zebra crossing.
The photographer transforms commonplace environments into bird's eye view patters of colour and form.
These images lack human presence but contain traces of it, such as scattered lottery tickets and newspapers.

Gefeller's series "Supervisions" , consist of photographic montages. The viewer initially registers each montage as a seamless whole, and often remains unaware that each image comprises many photographs of fragments of the same motif, which have been digitally sewn into a single visual fabric.

The degree of abstraction throughout "Supervisions" varies. In Untitled (Driving Range) , HongKong (2004) for example, thousands of white dots speckled against a green background only reveal themselves as golf balls on grass after we consider the work's title.
Other works such as Untitled (Parking lo 1) Paris (2002) with its white and grey grids one a worn yellow surface, stubbornly remain abstract even after we recognize the realities they depict. Gefeller's images thus oscillate between abstraction and representation.
He unsettles the camera's reputation for presenting an unbiased, objective view of reality, and transforms the environments in which we work and play into an aesthetic paradoxically familiar and exotic.