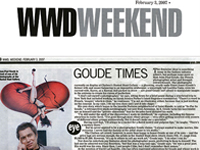 WWD
Goude Times
Feb 03, 2007
By Elisa Lipsky-Karasz
The feminine ideal is something many in the fashion industry admire, but perhaps none more so than Jean-Paul Goude, the French photographer, artist and Svengali extraordinaire. The photographs currently on display at Chelsea's Hasted Hunt Gallery – a gleaming, nearly nude Grace Jones (Goude's former wife and muse) balancing in an impossible arabesque; a toweringly tall Laietitia Casta; even his current wife, Karen, as a Korean doll packed in straw – are proof Goude isn't afraid to manipulate images to the extreme to create his vision of perfection.
"I don't call myself a photographer," he says, sitting down for a brief pause during a whirlwind trip to New York that included working on Sarah Jessica Parker's latest fragrance commercial. " There's a word in French, 'imagier,' which is close," he continues, "I'm not an illustrator, either, because that is just working on the concept. In my case, I do my own story and I put it into shape."
His own story, which began in the humble Parisian neighborhood of Saint-Mande, is told in "So Far So Goude," a retrospective-slash-autobiography out now from Assouline. In it, Goude turns his inscrutable eye on himself and the "private obsessions" that for decades have dictated his work.
"I'm still under the spell of the discoveries I made in childhood," he explains, including his famous attraction to exotic faces. "I've gone through most ethnic groups – very often getting involved with women of different ethnic groups sentimentally. But it doesn't make me a specialist."
Having said that, "I'll always be a sucker for a flared nostril and pulpous lips," he laughs. "There's a mystery there."
But he never aspired to be a photographer, Goude claims. "I always wanted to make movies, like everyone. I never had the fantasy of the artist alone in his studio."

The Chelsea art crowd, however, is more than happy to honor Goude as one of its own – and the price tags are serious enough; the prints in the Hasted Hunt show, which closes Feb. 17, range from $5,500 to $7,500. However, "it's up to others to call my work art," Goude says. "I do what I can do."

Nor does he entertain any fantasies about his photographer peer, preferring to keep to himself. The last one he admired was Guy Bourdain, "but that was a long time ago," Goude says. "He was a great poet. His world was his own. Since then, I see people I like, but I don't remember their names,"

At the mention of David LaChapelle, who has often expressed admiration for Goude and whose work is clearly inspired by him, the 66-year-old huffs: " I don't look at his work. It gets on my nerves. He's always been very nice and said nice things about me but – lifting things like that… get your own thing."

These days, the man responsible for depicting a naked, caged Jones snarling over a hunk of raw meat leads a happily domesticated existence in northern Paris with Karen and their young family, daughter Laurelei, 11, and son Theo, seven (joining son Apollo, 25, from his marriage to Jones).
"I used to go out club-dancing, which I practiced like a job," sighs Goude. "My dancing days are over now."