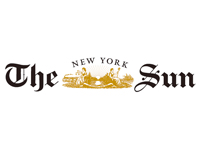 New York Sun
From Above: Andreas Gefeller
Mar 06, 2007

FROM ABOVE Andreas Gefeller takes aerial photographs of ordinary spots, such as racetracks, stadiums, and parking lots. In "Supervisions," his latest exhibit at Hasted Hunt, he juxtaposes the aerial shots with detailed shots of the same scenes. In one pair, he shows a vast golf course green, and in a detailed shot, he shoWs tiny golf balls against the lawn.
Selections include "Untitled" (Parking Lot 1), "Paris" (2002), above.
Through Saturday, April 14, Tuesday _ Saturday, 11 a.m.-6 p.m, Hasted Hunt Gallery, 529 W. 20th St., between Tenth and Eleventh avenues, 212-627-0006. free.