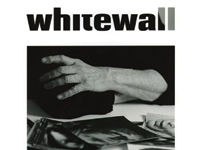 WHITEWALL
Feeling Goude
Apr 10, 2007
By Eve Therond
The French graphics revolutionary Jean-Paul Goude's new reality has just landed in these pages. Conceived by the legendary artist himself, words and image explode in your face with their gravity, dizziness, novelty, crushing joke, and eternity...Just look, read, and feel...Goude.
Images have found their God and of course he's perched on a modern Olympus. I had to climb the steep stairs that lead to Belleville Hills, his celestial kingdom in the heights of Paris's Chinatown" to meet Him—the Myth whose turbulent images had disturbed our visual atmosphere —and I got lost in a little boy's personal mythology. Sugar Ray Robinson, the defeated Black Panther; Grace Jones, the menacing antihero; and Karen, the adorable apostle of nonviolence – all characters in his life that brought me to a new reality: His own.
WHITEWALL: I've got to admit that it's difficult for me to call you simply Jean-Paul or Mr. Goude. To me you are "Jean-Paul Goude", all in one breath. Like a brand name.

Jean-Paul Goude: A brand name, really...like Chanel and Vuitton? What a good idea! I can just see it. My name on bags, underwear, perfume, eye glasses…

WW: But your brand would have to call attention to life's brutality, its extremes, and its wildness. It should provoke, leave a lasting impression, tattoo our imagination. Your images should stay turbulent, wild, unruly...

JPG: I don't understand. Are you saying that my work doesn't deal with life's brutality, its extremes and its wildness? Or are you saying the contrary? Whatever, my pictures are often in complete contradiction with what makes my personality. Pardon the cliché, but the "real me" is a result of a mild case of schizophrenia. I am and will remain a somewhat earnest, dependable and gentle "petit bourgeois from Saint-Mandé" (a suburb, east of Paris)—even though, excesses of all sorts have always inspired me. If some of my pictures may give the impression of a life made up of chaos and dramatic turns of events, I'm in fact a very normal person,—I'd say a "momma's boy"—and the living proof that catholic guilt exists.
WW: Your images, without being political, have undoubtedly influenced the 20th century? Still you seem very concerned about erasing any preconceived idea that people may have towards you, when in fact you have fought preconceived idea during your whole life, you have used tension and prejudice concerning race and gender and destabilized historic relation between male-female and or black and white power.
JPG: If you say so, it must be true, at least I hope so. I'm not a militant. I simply try—sometimes against all odds—to live without preconceptions or prejudice. It's a family tradition.

WW: Your mother's influence seems deeply anchored in you. You often said that you followed her precepts; clichés like: "An artist's work is the reflection of his soul". Are you saying that one ought to know your soul to understand your photograph? I'm getting into deep water here…

JPG: (laughing) Not at all, I think she simply meant that good work should reflect ones values and sensibility whatever they may be. I hope my pictures do that. My mother was a dancer, an artist, she always encouraged me to "be myself". She hated imitations and praised originality. I'm like her.
WW: Not everyone has your imagination, your fantasies,
your inner world…

JPG: You're too kind. I mean, lack of inspiration or talent is one thing, pretending you are what you are not is another, it bothers me. My mother was not the only one to encourage me to try and become "an original". Harold Hayes, the legendary Esquire magazine editor and my boss and mentor in the 70', always encouraged the members of his staff to be themselves: "Look for what makes you different from others and work on it". Instead of trying to make me fit into the literary world of Esquire—of which I knew very little—he encouraged me to work on what made me different from others. Very simple and basic. My only preoccupation at the time being girls, art, style, dance, music, humor, these were the subject matters