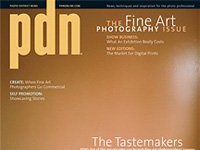 pdn
THE BUYING MARKET: HASTED HUNT GALLERY
Sep 01, 2007
by Holly Hughes
What are the collectors of fine-art photography buying these days? We asked three of the gallery owners profiled in our Fine Art theme stories to talk about their most recent sale.
Co-director Sarah Hasted says the gallery recently sold six prints by Andreas Gefeller. "Three of them went together, three were from the same body of work. They sold for $100,000. It was a client we had been acquainted with for a long time. We sent him a copy of Andreas's book, 'Supervisions.' Sometimes we send JPEGs via email. You look at what the buyers have purchased in the past and if there's something that fits in their esthetic. Sometimes you're spot on, and sometimes you're not. A lot of sales are made by email.
"The size of the six prints we sold vary, but on average, they're about 50 x 100 inches. The edition size is eight. They're Digital C-prints on Kodak Endura paper, made from a digital file."
"It's always a nice feeling when someone buys a really comprehensive selection of a photographer's work. I think it's an interesting way of displaying someone's art. They'll probably be displayed together and probably lent out to museum shows together."
"It's really fun to make that phone call to an artist to say, 'We just sold six.' It's not about the money, it's about someone revering it so much that they're buying six prints. That's a pretty phenomenal gesture."