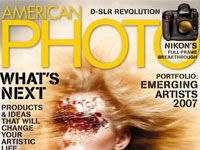 American Photo
IMAGES OF THE YEAR 2007
Dec 05, 2007
In portraiture, how close is too close? When does a photographer cross the line and invade personal space? Martin Schoeller's images cross that boundary, and the result is often uncomfortable, if not for the subject, then certainly for viewers accustomed to seeing portraits that flatter and hide as much as they reveal.
Working for magazines such as The New Yorker, Schoeller has, in the words of one of our judges, "invented a new style of portraiture that eliminates the visual clichés of celebrity photos." Placing his Mamiya RZ67 Pro II 6x7cm SLR two to three feet from his subjects, Schoeller finds the unexpected in the familiar faces of people like George Clooney, Dame Judi Dench, and Henry Kissinger, all of whom he shot on assignment in 2007. He uses a Mamiya 140mm f/4.5 macro lens, a moderate-telephoto focal length, so that he can come in close without distorting the face. Says Schoeller, "My goal is to make the picture about the face and the expression. It is an objective or neutral way of looking at somebody."
That goal unites the German-born, New York-based Schoeller with the famed German husband-and-wife team Bernd and Hilla Becher, whose studies of water towers and factories Schoeller admires. His portraits present us with an entire edifice of personality, not a mere façade.