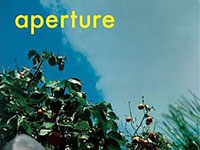 APERTURE
COLOUR BEFORE COLOR
Jan 29, 2008
In the rather dysfunctional history of photography, the 1976 exhibition "William Eggleston's Guide" at the New York's museum of Modern Art is often cited as The Start of Serious Color Photography. This idea riles and confuses many people, as color photography had been around more than a century before that (James Clerk Maxwell is credited with producing the first color photograph back in 1861). However, color work had been associated predominately with commercial or even snapshot photography. His show gave color practice the status in the museum world that had previously eluded it.
It is significant that the institution of American photography had become so central to the photography world at that point that it had the power to fuel the "acceptance" of color work. American photographers Stephen Shore, Joel Sternfeld, Joel Meyerowitz, William Christenberry, Lucas Samaras, and others (Helen Levitt and Garry Winogrand, best known of course of their black-and-white work, shot in color as well) all contributed to the establishment, the work, "legitimizing" of color photography in the 1970s.
But an equally lively color-photography culture was operating in Europe, both before and during the 1970s. This work was largely overlooked; it was not understood as a "trend", nor was it promoted by high-profile institutions like MoMA. The American colorists who became known in the 1970s are now enjoying something of a renaissance, while their European pioneer equivalents remain relatively obscure. It is well worth considering the work of some of these European innovators in the light of today's understanding of the medium.
In 1948, Danish photographer Keld Helmer-Petersen self-published a book titled 122 Colour Photographs. It was perhaps the first intelligent volume featuring only color photographs, and was distinctly modernist in its look. Helmer-Petersen had a brief moment of recognition when Life magazine published a folio of his work in 1949. For a short period he taught photography at the Art Institute of Chicago, before returning home to Denmark to pursue a career as an architectural photographer, and to create his own work using graphic motifs with buildings, in black and white.
Luigi Ghirri was a color photographer whose work overlapped greatly with American photographic sensibilities: a real spirit of adventure propelled the brilliant Italian artist to explore many ideas well ahead their time. Ghirri delighted in the prosaic, discovered images everywhere, and introduced an entirely new approach to thinking in color.
For some proponents of color work, the status of color photography in the art world was of little interest. Ed van der Elsken, the maverick Dutch photojournalist, switched effortlessly between color and black and white – he turned to whichever mode suited his purpose for a given image. Van der Elsken's long-term project shooting in the streets of Amsterdam and other cities, and his work documenting youth culture, produced many iconic color images. He was a full-on photographer who shot with a boldness and directness that was well-suited to the newfound brashness of color.
Carlos Pérez Siquier, like many color photographers in his generations, started his career in black and white and moved to color in the 1960s. He photographed in his native Almería, Spain, and in the 1970s took to the nearby beach with a medium-format camera to produce a remarkable body of work. The visual vocabulary that he developed in this setting, removed from the fray of the art world, has a freshness that belies its era. He used a combination of flash and saturated color that seems to electrify details of the beach visitors, who are simultaneously ugly and beautiful.
English photographer John Hinde was true trailblazer of color work. In the 1940s, he published three books of color photography – Exmoor Village, Citizens in Warm and British Circus Life - and lectured widely on the subject (including at the Royal Photographic Society). Hinde started a hugely successful postcard company, and in the late 1960s picked up a commission to photograph the Butlin's holiday camps throughout the United Kingdom. He employed other photographers who helped him to carry out his and other assignments. The images of the camp interiors are in luscious color, and are packed with information about the dress and décor of the period.
The first landmark exhibition of color photography in the United Kingdom was 1979's A New Refutation of Viking 4 Space Mission, showcasing the work of peter Mitchell, at the Impressions Gallery in York. Mitchell photographed the factories, shopkeepers, and other features of Leeds, the city where he still lives. His images are rendered in a very formal style, many of them taken from the top of a ladder – the idea being to show how Leeds might be viewed when the Mission from Mars finally lands on the unsuspecting city.
When the exhibition of works by these artists was up at the Hasted Hunt Gallery in New York last summer, Mitchell and Pérez Siquier both participated in a seminar on the subject of color photography. The main point that emerged that evening was that the two of the worked in total isolation, having no knowledge of what even the renowned American colorists were doing, let alone their European colleagues.
Today, the language of color photography that these photographers employed is very familiar. It is time to re-assess the short and confused history of recent color photography by showing the work of European innovators who have been overlooked and eclipsed by their U.S. counterparts.