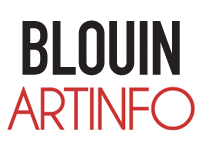 Blouin ARTINFO
INTERVIEW: MARTIN SCHOELLER
Feb 03, 2008
By Kris Wilton
NEW YORK—"New Work," Martin Schoeller's latest show at Hasted Hunt, is a study in contradictions. The 29 portraits—almost claustrophobically cropped 50-by-60-inch head shots, mostly of celebrities—are flattering and unforgiving, personal and generic, monumental and intimate. The portraits present such luminaries as George Clooney, Joe Namath, Justin Timberlake, and particularly female stars like Cate Blanchett, Judi Dench, Meryl Streep, as you've never seen them: unretouched, larger than life, wrinkles and sunspots and all. The remaining works, head shots of members of the Amazonian hunter-gatherer Piraha tribe commissioned by the New Yorker, call attention to the almost ethnographic nature of Schoeller's approach.
The German-born photographer's background is more vocational than artistic—he studied at a small, two-year technical school in Berlin called the Lette Verein rather than at one of Germany's reputable art schools—and he doesn't seem to consider himself an artist: He wondered, in fact, whether he would be a good fit for ARTINFO. But the art and publishing worlds have embraced him: His current show at Hasted Hunt is his second there, and he's shown at Ace Gallery in Beverly Hills and in Boston, Amsterdam, Milan, and Berlin. Te Neues published a book of his portraits, Close Up, in 2005. His photographs have appeared in Rolling Stone, W, Esquire, GQ, and Entertainment Weekly. And in 1999 he joined Richard Avedon as a contributing photographer for the New Yorker—which he calls the "best magazine in the world."
ARTINFO visited Schoeller in his Tribeca studio, where we got a sneak peek at his latest series, relentless portraits of female bodybuilders, shot in 8 by 10—there's no way this technically exacting, microdetail-oriented photographer is going digital—and printed 72 by 90 inches. The subjects are coiffed, bikinied, grinning, and greased, and the photos are so crystal clear that you can count every pore. A book of the series is to be published by Pond Press in September, and Ace Gallery will present a selection of the works in their second collaboration with Schoeller starting March 5. Plans are also in the works for the exhibition to come to New York and to be shown in Beijing during the Olympics.
Schoeller spoke with ARTINFO about his method, his influences, and why he lets celebrities "keep their wrinkles."

MARTIN, YOUR PHOTOS ARE TECHNICALLY IMPECCABLE. DID YOU LEARN MOST OF WHAT YOU KNOW AT SCHOOL OR ON THE JOB?
Technically I learned a lot at the school, which is great, because whenever I go to art schools, the students seem completely lost when it comes to anything technical. Having this background, I don't have to think about the technical aspects of photography. It also got me my assistant work with Annie Leibovitz—I worked with her for three years.

WHAT WAS IT LIKE TO WORK WITH HER?
It was very challenging. My English was not that good when I first came here, and she's extremely demanding. She doesn't have that much patience. I got along with her very well after about a year, but the first year was very intense and not very pleasant.

NOW YOU SPLIT YOUR TIME AMONG ASSIGNMENTS FOR A LOT OF DIFFERENT MAGAZINES. IS THERE ONE SORT OF WORK YOU FEEL IS CLOSEST TO WHAT YOU WANT TO BE DOING YOURSELF?
Well the bodybuilders I did for myself, but how you make a living is photographing celebrities; you can sell those pictures worldwide for many years to come if it's somebody people care about. But often a magazine gives you a location, clothes, and a pain-in-the-ass celebrity who doesn't want to do anything. So I developed the headshots. They allow me to walk away with something for myself—a very honest, simple portrait that no publicist can say anything about. You can't see what they're wearing and they're not having to do anything, so no red flags go up. Only three or four times have people refused to have a picture taken that close. But it doesn't really feel so close, because I have a long lens.

BUT THEY'RE SO UNFORGIVING, THOSE PHOTOS.
They're unforgiving in the sense that you are that close. But considering that they're so close, the lighting is really nice and flattering and soft. You don't see many wrinkles at all. Some people who have a crooked face look a little bit less flattering, but even a lot of people who aren't really perceived as being that good-looking end up looking much better.

YEAH, BUT IF YOU TAKE SOMEBODY LIKE CATE BLANCHETT, FOR EXAMPLE, YOU NEVER SEE HER LOOKING AS UNRETOUCHED AS SHE DOES IN YOUR HEADSHOT.
Well, they are unretouched, so if they have a wrinkle somewhere they keep their wrinkle.

ACTUALLY, THAT'S WHAT I LOVE ABOUT YOUR WORK—YOU'RE NOT GOING TO SEE IMAGES LIKE THAT OF FEMALE CELEBRITIES ANYWHERE ELSE. IT'S SO NICE TO SEE WHAT A WOMAN REALLY LOOKS LIKE, AND SHE STILL LOOKS REALLY BEAUTIFUL.
Exactly. They still look very good. I'm so tired of magazine photography, where the main goal is to make somebody look ten pounds lighter or ten years younger. People on magazine covers look like paintings. They don't even look like people anymore. That's why I like Richard Avedon to some extent. His pictures are a lot more honest and less flattering.

HOW DO YOU GET YOUR SUBJECTS COMFORTABLE WHEN YOU'RE SO CLOSE?
I talk nonstop. As soon as you're quiet, people start thinking about what they want to do later on, or when is this going to be over, and they start to withdraw. On rare occasions that can be good too, because sometimes people look like their real selves.

SOME PEOPLE SAY THE CAMERA NEVER LIES. DO YOU THINK A PHOTO CAN CAPTURE A PERSON'S REAL EMOTIONAL STATE OR SOME TRUTH ABOUT THEIR PERSONALITY?
I think all photographs lie. They capture such a small amount of a person's personality, if they capture anything. A 60th of a second might give you at most an insight into a person's personality—I'm just trying to go for that edge where you might learn a little bit about a person.

HAVE YOU EVER COME AWAY FROM A SHOOT WITH NOTHING?
Yeah, when the subject is acting and I feel like nothing looks halfway honest. Actors especially are constantly posing or squinting or trying to look foxy, sexy, or whatever they want to portray. By the time my book came out in 2005 I'd done about 400 portraits in that style, but there are only about 70 in my book. At first I thought I'd do 120 or so. But then I couldn't find enough pictures that I liked.

DO YOU LIKE THAT YOU CAN SEE THE LIGHT SETUPS IN THEIR EYES?
It's just part of the lighting technique. In the beginning it bugged me a little; I felt like it was too much reflection, but I think it brings the attention more to the eyes because they are so bright. The eyes and the mouth are the most important things in the face—it's where you judge all the expression from. So with a shallow depth of field and the way I light the subjects I really draw all the attention to the essential parts of the face and everything else becomes secondary.

HOW DO YOU PREPARE FOR EACH SHOOT?
I read up on the subject. If they've made any movies recently I watch their movies, or if they're writers I try to read their books. Then I try to come up with ideas that are slightly conceptual but that make sense for the person. Then I go location scouting, and then I have to get the props. A lot goes into each shoot.

YOU'VE SAID THAT PEOPLE WHO ARE NOT EXPERIENCED AT BEING PHOTOGRAPHED ARE EASIER SUBJECTS. WHY IS THAT?
Because they don't think about what they want to look like. Most celebrities are constantly trying to look like something, somebody, convey some kind of expression. Athletes are easier: Often I feel like they've never looked in a mirror in their life. They're less interested in photography and they're less patient, but they are also less guarded. It's not about looking beautiful; they couldn't care less. It's about how many points you score, how fast you run.

HOW DO THE CELEBRITIES YOU SHOOT REACT WHEN THEY SEE THE PHOTOS?
I never hear back from them.
I'd think it would be hard to look at this kind of photograph of yourself.
That's the other thing about Richard Avedon—he made people look horrific. I think I'm much more humanitarian. At least they don't look like monsters. Diane Arbus, Richard Avedon really made people look mentally challenged.
Some of the people Diane Arbus was shooting were mentally challenged.
But even, like, the kid with the hand grenade, he looks like a crazy monster. The giant in his parents' living room, they all look like a family of wackos. It just reflected her own personality to some extent that she would pick those frames.

HOW DO YOU CHOOSE YOUR FINAL IMAGES?
I shoot 200 frames. Sometimes I don't like any, sometimes I like five. Then I have to make up my mind which of those five are the best.

PEOPLE SOMETIMES COMPARE YOUR WORK WITH CHUCK CLOSE'S.
I've photographed him, and I just saw the documentary about him. I really like his work, but I have to say I'm glad I didn't see it earlier, because I feel like it might have discouraged me, since it is very close to my work. Either out of ignorance or incompetence I only saw his Phillip Glass painting at the MoMA when I was way into doing these headshots, which I've been doing since '97. I was like, "Oh my god. Everybody's going to think I'm ripping this guy off."

WHOSE WORK WERE YOU INFLUENCED BY?
I was more influenced by [Bernd and Hilla] Becher, by the idea of finding a common ground for looking at everybody in the same way. I put all of my friends in front of an 8-by-10-inch camera, measured everybody's eye height, and worked with a German idea of trying to categorize things, trying to find conformity. Nobody was allowed to wear makeup, everybody had to pull their hair back, everybody got the same lighting. That was my first portfolio. It didn't go over very well with the magazines.
Then I saw Thomas Ruff's work. He did these humongous portraits and they're all almost completely expressionless. It's very German. I was impressed.
Sometimes ignorance is good for an artist because if you're totally aware of everything that's been done, you feel like there's nothing left to do.