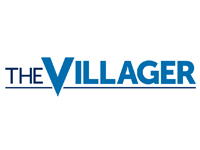 The Villager
Of cameras and commemoration
Apr 02, 2008
By Jeffrey Cyphers Wright
A new lens on the major themes of mortality and memory
Art creates a portal for us to travel through time, and several current shows address this ability with starkly different designs and results.
Mining the strata of his own childhood memories and stories from his grandmother, Milan native Paolo Ventura's "Winter Series" invents a series of photos representing the memory banks of a dying man. The scale models and figurines re-envision a simpler time. But this is not quite Eden. A fairytale grimness or noir frisson tempers the beckoning nostalgia.
In a rainy scene, the umber and ochre palette is so restrictive that it becomes inviting. Anonymous and isolated, men in trench coats pass by. The black umbrellas possess a luxurious sheen as well as a menacing uniformity.
A corner building's cropped front presents a strong diagonal, suffusing the atmosphere with surrealism. Above the oppressive scene, a bright window on the second floor shines with relief and promise as if to say, "Just get home with all your secret intrigues and worries and a nice dinner party awaits you."
The circus, replete with its drama and metaphors, is a grand theme in the show. Ventura's vignettes recall the dizzying visions of his countryman, the filmmaker Federico Fellini. A clown clutching a bouquet calls us into a tent. A puppet theater with drawn curtains pledges to provide fuel for the imagination. A high-wire act passes over the heads of a crowd much as the artist passes his sleight of hand over our eyes.
In "Winter Stories #9" a man leans against a circus wagon, gazing at a showgirl who rides by on a white horse. She is the star, her lavender and white plumage proclaiming her magic and majesty, and yet her back is to us, maintaining a sense of mystery.
Ventura hovers at the edge of the sublime, populating a world where everyone is an actor on a set. The show has not yet begun, but we're invited in, where we share the excitement with the insiders.
Memory is also the subject of Juan Manuel Echavarria's show at Josée Bienvenu—or more aptly: memorial. For over a decade, the artist's videos and photographs have spoken to the ongoing drug war in Columbia. "Death and the River" documents a mausoleum that is the final resting place of many victims of the 40-year old conflict.
For the people of Puerto Berrio, the anonymous bodies that are pulled from the Magdalena River offer them an opportunity. If they can do a favor for the dead by consecrating their bodies and tending to their graves, then the dead may return the favor one day.
Like the rows of dead, Echavarria has photographed the individual vaults and presented them as they are: in columns of five deep and thirteen across, each square representing an expression of loss and belief. Crosses, candles, plastic flowers and religious statuary are placed in the recesses. Cups of water are offered because legend has it that those who drown in the river will be thirsty until their souls ascend. Words of respect are painted on the concrete surfaces offering solace. The label "Escogidos" (chosen) indicates that a tomb is being cared for by one of the townspeople.
On a green background in one space, we see the word spelled boldly and then running out of room. The hyphenated Escogi-dos captures the simple, unpremeditated impulse that makes these images so removed from the art world. Yet some of the squares read like a black and white abstraction by Motherwell or bear the cryptic inscriptions of Basquiat.
In these unique gestures of humanity, dignity is sanctified. Salvation is contemplated. The artist has imitated the folk art of his countrymen and in doing so has transcended formality and replaced it with a searing homage.
The camera peers into a grim future in Ashley Bickerton's creepy tableaux at Lehman Maupin. His new "blue man" and his bevy of Gaugin-esque Amazons are tacky and overbearing. The colors are garish, the props profuse and the people look like they're one brick shy of a load. This extended family of yahoos appears to be on an endless holiday in a world of opulence and leisure. Yet, they are not chic—they are clowns, unwittingly duped by their own pursuits.
Bickerton's disturbing images linger. They lift the curtain on our rush toward oblivion. His computer-manipulated and painted photos push the boundaries of technical capability while his unappealing subjects destabilize the concept of art as commodity. The handmade carved wooden frames with mother of pearl inlay beg to be rescued. But then hey, don't we all.