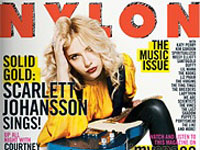 Nylon
ROLL CALL: JAMES MOLLISON
Jul 17, 2008
by Sabrina Cooper
Fan clubs of the world unite, and call it art.
We at NYLON understand a certain level of obsession over your favorite band. But how far would you go to show it?
For his show at New York's Hasted Hunt Gallery, British photographer James Mollison sought out fans in full regalia at live concerts, dressed like, well, the main act.
Needless to say, the big rock stars of the world would be nothing without the fans. In each of Mollison's shots, he captures the bonds of shared musical love interests. After all, imitation is the sincerest form of flattery, whether it's for Marilyn Manson, Rod Stewart, Klaxons, or Dolly Parton (whose acolytes you can see in the images below).