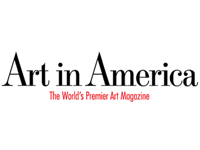 art in america
PAOLO VENTURA: WINTER STORIES
Nov 01, 2008
"Winter Stories," the title of Paolo Ventura's latest series of photographs (2007), refers, literally, to the season depicted, but also, more figuratively, to the final season of one's life. Ventura conceived of the photographs as representing the recollections of an old man as he looks back during his final moments. Regardless of whether the viewer knows that, the images, with their sweetly mournful quality, are surprisingly moving, given that their subjects are figurines in artist-made dioramas.
Ventura used his tabletop constructions to poignant effect in his previous series, "War Souvenir" (2005), in which he mined his own memories of stories he was told by his grandmother to re-create the atmosphere of ravaged Italy during World War II. Those images were conceived not only in their evocation of iconic documentary photographs and actual war events, but also of impressions of loss or sacrifice. The latest pictures rely on a common bank of imagery, too- Fellini films, for example, or shadowy Brassai- like shots of postwar Paris- but also on a shared sense of childlike wonder. In one image, the viewer becomes part of a crowd of onlookers gazing up at a tightrope walker executing an impressive feat of balance. In the photograph that greeted viewers when they walked into the gallery, a melancholy clown stands on a wooden chair, arms wide open, as if in welcome to the artist's old-world fantasy.
Ventura, who honed his ability to create fictional worlds during a career as a fashion photographer, has here conjoined scenes of a small Italian town where a carnival has stopped. It could be the 1940s or the '50s. All the men wear hats and heavy overcoats, and the carnival itself is something out of another era. The level of detail-the tiny apples strewn in the grass, the snow-covered shoes of the clown, leaves collecting on a damp street- is extraordinary. But it wouldn't carry the work if the images weren't so atmospheric and artfully composed, or if they didn't suggest so many narrative layers. In one photograph, a man poses as a pilot in a painted airplane on a false façade, the kind of thing that's a fixture at fairs and carnivals still. In another, the painted airplane sits empty, a camera on a tripod in front of it, and the photographer, slumped in a chair, waits for customers. At the gallery, the actual doll-sized façade itself framed and hung on the wall, a bit of evidence that grounded Ventura's fictional "memories" in constructed reality.