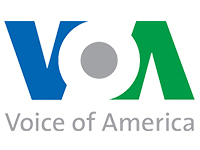 VOICE OF AMERICA NEWS
FACE-TO-FACE WITH OBAMA
Dec 26, 2008
By David Bird
Millions of people are expected to visit Washington for President-elect Barack Obama's inauguration January 20. But getting close to the president-elect will be extremely difficult. However visitors can get a very close look at Mr. Obama in a new exhibit called "Feature Photography" at Washington's National Portrait Gallery.
When Barack Obama is inaugurated president, his celebration parade is planned to travel up Pennsylvania Avenue to the White House. Millions of people are expected to jam the streets to catch a glimpse of the first-ever African-American President. But visitors can get a more detailed - and intimate - view of Mr. Obama just up 8th Street from Pennsylvania Avenue in Northwest Washington at the National Portrait Gallery.
The Greek-revival building, intended to be a "hall of heroes" by city architect Pierre L'Enfant, was patterned after the Parthenon in Athens.
The former site of the U.S. Patent Office underwent a massive renovation beginning in 2000. An auditorium was added and a glass-roofed area that allows light to flood the center of the building and offers views of the night sky replaced an open-air courtyard.
The building served as the site of Abraham Lincoln's 1865 Inaugural Ball, just a few weeks before his assassination. Several portraits of the 16th U.S. president from Illinois now hang in the gallery.
But it is another president from Illinois - Barack Obama - who draws the attention of the Portrait Gallery's "Feature Photography" exhibit. German-born Martin Schoeller, whose work has appeared in Gentlemen's Quarterly, Vogue, and The New Yorker magazines, took the photograph. Schoeller, a former assistant to well-known photographer Annie Liebovitz, shot Mr. Obama's photo in 2004 as part of GQ's Men of the Year issue.
The photo measures one meter, 56 centimeters tall by one meter, 27 wide. The president-elect is not smiling, and the image is cropped tightly to show only his face and a portion of his neck. He is in front of a stark, plain, white background.
Schoeller told VOA that the extreme close-up allows a more honest photograph, which is difficult to achieve, especially with public figures or celebrities.
"I liked this particular frame because I felt it was more objective than others. Often times he smiles, because he has a great smile, and people often put themselves into poses that they think they look good in. But since Obama felt kind of natural and I felt like I was getting some in between moments, I felt like I got a good image," he said.
Ironically, GQ magazine chose another of Schoeller's pictures - of a smiling Barack Obama - for its article. National Portrait Gallery curator Anne Goodyear told a gathering of about 50 people that the more serious looking image in its exhibit shows a different side of Mr. Obama.
"I think to have this image that captures already the confidence and the determination that clearly have sustained him through a very fierce political campaign are the types of qualities that we want to be able to capture historically and that we want future generations to come into contact with when they come to the portrait gallery," she said. Ms. Goodyear said the image will help people's ideas about Mr. Obama and his role in history both in the United States and internationally.
Mr. Obama's photo hangs alongside a similar photo of his 2008 presidential opponent, Republican Senator John McCain. Actors Jack Nicholson and Angelina Jolie, and artist Cindy Sherman are on adjacent walls. Smaller images of the Pirahã men of Brazil are arranged in rows of three each opposite the photo of the president-elect.
Schoeller's photograph was shot on film and then processed digitally. The photographer said he chose film because digital photos have too much depth of field and focus. Film allows him to draw the audience into the photograph - particularly to the eyes and the mouth, which he calls the most expressive part of the human face.
"I feel like I can bring them out more shooting film and having everything else sort of fall off and be slightly out of focus. The eye in the first instance goes straight to the eye of the portrait. If I photographed this in digital, it would be kind of a lot sharper and a bit more technical," he said.
Vince Aletti, the photography critic for the New Yorker, says Schoeller's style offers an intimacy with his subjects that almost borders on intrusion. But the extreme close-ups in massive size also offer extreme honesty when one encounters the portraits.
"You are always invited to sort of read a lot into portraits," he said. "You think you know something about someone and you still want to kind of figure out more about them. And I think Schoeller's work invites us to really kind of nudge in closer than we might normally do."
Mr. Aletti added that the extreme close-up gives the sitter what he called a sense of nakedness.
"There's really nowhere to hide in Schoeller's portraits," he said. "And they can be a little shocking I think to be thrust so close to someone, usually someone incredibly famous, someone very well known that we don't usually see at this distance," he said.
During the 2008 presidential election campaign, Martin Schoeller sold 250 smaller versions of his Obama photo for $250 each. The money went to help support Mr. Obama's campaign. But the photographer does not plan to attend the Inauguration - he will be on another assignment.
The exhibit that includes Schoeller's portrait of Barack Obama will be in the National Portrait Gallery through September 27, 2009.