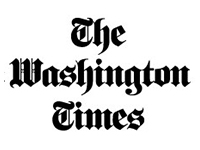 THE WASHINGTON TIMES
CAPTURING REALITY-- FLAWS AND ALL
Jan 04, 2009
By Debora K. Dietsch
"Portraiture Now: Feature Photography" Feature Photography" at the National Portrait Gallery takes the temperature of the country to reveal some of our social ills, from childhood obesity to post-traumatic stress disorder. Even the many celebrities in this display of 60 images - including President-elect Barack Obama, Michael J. Fox and Angelina Jolie - look pretty flawed compared to their glossy head shots typically featured in print.
These unflattering, but effective, portraits are part of the fourth installment of a series aimed at challenging traditional portraiture and attracting a younger audience to the museum.
The show is organized around the photographers rather than their subjects. None of these six talents is as well known as Annie Leibovitz or Richard Avedon, but their work similarly crosses over from journalism to fine art. Most of the images on display were previously published in magazines, including Esquire, GQ and Vogue, and offer artistic merits on their own.
Steve Pyke and Martin Schoeller work for the New Yorker and their portraits of actors, artists and politicians are fairly predictable compared to those of the ordinary people in the exhibit. Like the huge photo-realistic portraits painted by artist Chuck Close, Mr. Shoeller's close-ups of Mr. Obama, his Republican opponent, John McCain, and actor Jack Nicholson reveal every pore and blemish on their faces.
Female attractiveness is examined by Minneapolis-based Alec Soth and Princeton University professor Jocelyn Lee to challenge traditional ideals of beauty. Mr. Soth's portraits of pretty girls and women make us wonder if they are professional models or just wannabes posing for the camera.
Ms. Lee plays against type in a more obvious way. Her portraits of adolescents, some of them cuddling animals, exude an unexpected steeliness. Snapshots from the photographer's ad campaign for Maine designer Angela Adams counter the typical product shots with children playing on the carpet and a praying man kneeling beside a bed. The boldly patterned rugs by Ms. Adams play second fiddle to the people, prompting questions over their promotional effectiveness.
Youth culture is the stock-in-trade of New York photographer Ryan McGinley, whose work has been shown at the Whitney Museum of American Art. His grouping of prints was taken during several Morrissey concerts between 2004 and 2006. In addition to focusing on the musicians, Mr. McGinley aims his lens on the audience to snap portraits of rapturous fans in a romantic way.
Vulnerability fills the portraits of incarcerated and fat juveniles taken by Katy Grannan, whose images are the most poignant of the exhibit. One of her series was shot for "The Women's War," a 2007 New York Times story on female soldiers who have suffered psychiatric disorders as a result of combat in Iraq and Afghanistan.
Ms. Grannan pictures the women out of uniform in mundane settings such as a kitchen, a car and a playground swing to contrast the ordinariness of their home life with the traumatic wartime experiences described in the newspaper article.
As in the previous "Portraiture Now" exhibits, "Feature Photography" exposes younger talents and less conventional ways of picturing Americans than evident in the museum's collection, which now includes recent portraits of President Bush and first lady Laura Bush. The exhibit is partly a commercial for the publications responsible for hiring these fine-art photographers, but offers enough topical interest to merit a visit.
WHAT: Portraiture Now: Feature Photography
WHERE: National Portrait Gallery, Eighth and F streets Northwest
WHEN: 11:30 a.m. to 7 p.m. daily through Sept. 27
ADMISSION: Free
PHONE: 202/633-1000
WEB SITE: www.npg.si.edu