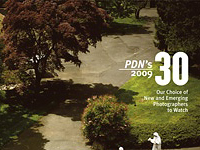 PDN
30 UNDER 30: NATHAN HARGER
Mar 01, 2009
By Daryl Lang
Nathan Harger photographs the infrastructure that powers American industry: Cranes, telephone wires, airplanes, bridges, factories, more telephone wires. What others use for commerce and profit, Harger makes into art.
Harger started art school planning to become a designer, but fell in love with the "instant gratification" of photography. He moved to New York for graduate school and stayed, turning his camera on the urban wreckage rusting at the fringes of the city. "If I'm really stumped, I just go to Elizabeth, New Jersey, and find those great factories and steel mills out there," he says.
He occasionally gets stopped by security guards who wonder what he's up to. "I tell them I'm a fine artist and they kind of roll their eyes," he says.
His black-and-white prints, often so high-contrast there are no shades but black and white, was selected for the "Contradictions in Black and White" exhibition at New York's Hasted Hunt gallery. Gallery owner Sarah Hasted was one of the professors who helped encourage his photography. Harger called it "strange" to see his work hung alongside some of his idols, including Ray K. Metzker.
Harger, initially resistant to digital imagery, says he now enjoys working on the computer. He sometimes shoots color, including a series of pictures of airplanes against blue skies. When asked why he's driven to make images of transportation and industry, he hesitates.
"I'm not sure I really want to know. . . . I think things get too overanalyzed sometimes," he says. "I think I'm kind of searching for an answer. And when you solve a problem, the problem's done."