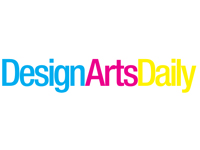 DESIGN ARTS DAILY
LIVE FROM NEW YORK, IT'S A HELLUVA TOWN!
Jul 01, 2009
By Peggy Roalf
The summer has finally showed itself here in New York, just in time for a rare treat in the world of photography. Thirteen of the city's top galleries have combined forces to present views of the city, made since the days when photography first landed on our shores up to the present.
I contacted Bill Hunt, of Hasted Hunt, to get the story. He replied by return e-mail, "In mid-April, Sarah Hasted, one of the partners in Hasted Hunt, suggested contacting some colleagues, other major New York galleries specializing in photography, and inviting them to a meeting.
"The group," he said, "included Deborah Bell, Bonni Benrubi, Janet Borden, James Danziger, Howard Greenberg, Sarah Hasted and Bill Hunt, Edwynn Houk, Peter MacGill, Bob Mann, Larry Miller, Yossi Milo, Yancey Richardson, and Julie Saul.
"Two things came out of that meeting," Bill continued. "The group had the idea to collaborate on a citywide photography exhibition called New York Photographs. Each of the participating galleries organized a show that deals with images unique to New York, landmarks or events or artists.
In addition, the collaboration was designed to be something of a recession-buster. By teaming up as a group and approaching framers, advertisers, and shippers, they were able to negotiate discounts that have been passed along to collectors in the form of reduced pricing on the prints.
Yancey Richardson, who opens Glitz & Grime: Photographs of Times Square next Thursday, is delighted with the results of the collaboration - and the process. "When we were all starting out -- was it 20 years ago?" she said today in her gallery, "we weren't married, we didn't have kids, so we had time to hang out together at auctions and openings. Now, we're all so busy we're lucky if we see one another a few times a year. So this has been a great way to re-establish our bonds."
Currently on view at Hasted Hunt is a selection of images of the Statue of Liberty, from the 19th century to today. If you've ever wondered what is inscribed on Lady Liberty's open tablet, visit this exceptional show for inspiration and information. Among the artists on view are Paolo Ventura, Bruce Davidson, and Ralph Seneca Stoddard, among others.