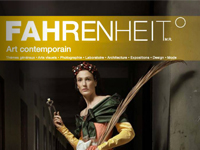 Farenheit Magazine
SHADES OF LIGHT, SHINES FROM THE DARKNESS
Jan 25, 2010
By Beatriz Díaz Zurita
Very few know that American photographer Frances Benjamin Johnston (1864-1952), at thirty-five years old, was commissioned by Booker T. Washington to photograph the students and facilities of the Normal Institute of Agriculture of Hampton, Virginia. This project is distinguished as one of the most successful of his career, as the photos show with elegance and detail education systems in a school that housed one of the most marginalized groups in the United States.
The images illustrate the work being performed in this school by the African American, and Native-American communities, during the period of slavery. From this commission, emerged one of the most innovative portfolio of early twentieth century, which more than sixty years after its creation and the importance of its historical perspective, was recovered by the MoMA [The Museum of Modern Art] New York in the book entitled: The Hampton Album.
Forty years after the publication of the book, and more than one hundred years of the creation of images, the Dutch artist Erwin Olaf (1959) found in The Hampton Album a whip of inspiration and a starting point for his most recent photographic series.
Dusk is a story told in six images and a video. The story has no specific beginning or end, but the tension between sound, time and sequence that makes us feel that we are present in an environment where everything will happen mysteriously is the plot point of his discourse. Olaf retrieves of Johnston the elegance and dignity how a portrait is revealed. Also bet on the refined stage decoration, by careful selection of models and range of tones found dense metaphor of darkness. After night comes the light, so that Dawn emerges as a reflection of Dusk. This series can be viewed as a second stage of the former, or both as a single portfolio. In Dawn Olaf uses the same framework and creates identical situations than in Dusk, but opposing an antagonist. The evocation of the night now shifts a day, facing portraits of Afro-Americans are presented Caucasian Russians ones, both coming from early last century.
Erwin Olaf studied journalism in the Netherlands, career that acted as a watershed in his thinking and interpreting reality. Upon graduation he began to perform personal photo projects where he explored his own identity as an artist and soon he decided to devote him entirely to advertising and editorial photography. It was not until the mid nineties when he could combine his artistic concerns with his commercial career, realizing it was so important for him to express his emotions freely and without the constraints of a client. While there is a separation between his personal and commercial work because they arise from different intentions, the conceptual and visual treatment that uses Olaf are almost always the same. For him photography is a field where work explores various strategies that have their background in film, painting, literature and theater. His position about the society in which we live is always critical and sometimes ironic, so that his work suffers from censorship on many occasions
For Olaf technical rigor and self-criticism have been the parameters of his work since he began to devote himself professionally to photography. He has also been one of the photographers from the inclusion of digital; he has adopted and integrated into his work. Today Olaf is regarded as an image manager, as his work begins at conception of the idea, goes through a complex production that culminates in making photographs and ends in a dedicated pictorial exercise conducted by computer. In each of these steps, Olaf works with a team of professionals to whom he delegates specific tasks leading to him the final construction of the image.
Dusk & Dawn were shown recently in Galería Espacio Mínimo, Madrid, Spain. This is probably one of his most quiet and introspective works, Olaf from some of his last series as Rain, Hope, Grief & Fall has shifted the black mood for the seriousness, or the force of the scathing criticism by the complexity of a much more hermetic symbolism. The Dutch photographer says that as the years pass, he realizes more and more we are all born alone and we will disappear by ourselves, so he has become more serious and melancholic, reflecting these feelings in his recent work.
Erwin Olaf has used one of the ancient themes of representation. The dialogue between Dusk and Dawn recalls the time in which mythological events occur, when gods abduct girls, dressed in sun or moon when they become to woo the nymphs. The dynamics of dawn and dusk in many cultures is the engine of life and the reason for eternity; Orientals call it yin and yang. In the Bible the day is the reason, clarity, honesty and night is the mystery, the hidden, and forbidden. In the photos of Olaf, Dusk and Dawn are the union of opposites, form a harmonious and inseparable unit, where the distinction of gender, race or class exists only to bind again.

Erwin Olaf (1952, Netherlands). He studied journalism at the School of Utrecht. He is principally engaged in commercial photography. He has exhibited his artwork in museums in Sydney, Bologna, Prague and Moscow, among others. Galleries, in Milan, Madrid, Paris, New York and Hong Kong, represent him. He lives and works in Amsterdam.