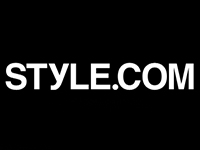 STYLE.COM
PHOTOGRAPHER ERWIN OLAF PLAYS FOR THE DREAM TEAM
Jan 29, 2010
By Alison Baenen
Despite several campaigns and editorials to his name, Dutch photographer Erwin Olaf isn't as well known among fashion cognoscenti as, say, Juergen Teller or Mert and Marcus, but his highly stylized—and often disturbing—images of glossy Venus and Adonis types could easily be mistaken for edgy spreads in Vogue's Japanese or Italian editions. And at the opening last night of Olaf's new show, Hotel, Dawn & Dusk, at New York's Hasted Hunt Kraeutler, the lensman acknowledged that he is influenced by fashion photography—though, he was quick to note, he's also "a little bit afraid" of it. "I think I am too bad for that," he claimed. "But fashion photography has always experimented with itself, which is very interesting for me as a photographer. As Picasso said, 'I steal wherever I can,' and I steal from fashion photography." Steal and invert, that is. This is a man who once shot several very nude nudes with Chanel, Gucci, and Versace bags over their heads for a series entitled Fashion Victims.
If his shots don't give it away, Olaf is decidedly pro-manipulation when it comes to the Photoshop debate. "Photography is a dream world, it's not reality. You have the realistic photos of Juergen Teller and Terry Richardson, the kind of photo that has to be ugly, with bruises and spots and blah, blah, blah; and you have dream photography. I'm a member of the dream photography. Or nightmare," he added, laughing. "It depends on your point of view."
Hotel, Dawn & Dusk will be on view through March 20 at Hasted Hunt Kraeutler, NYC,
www.hastedhuntkraeutler.com.