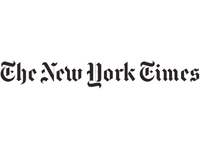 NEW YORK TIMES MAGAZINE BLOG- THE MOMENT
HOW THEY GOT THE SHOT: GREAT PHOTOGRAPHS OF THE 20TH CENTURY
Mar 25, 2010
By Anna Carnick
Some photographs are so famous that they've become part of our collective visual history. But the stories behind them – and the lengths photographers have gone to capture them – are often more of a mystery. A new exhibition at Hasted Hunt Kraeutler in New York, "Great Photographs of the 20th Century: Staged and Startled," looks under the skirts of 22 such photos by the likes of Richard Avedon, Irving Penn, William Eggleston, Steven Klein and Tina Barney.
Take Avedon's 1953 portrait of the half-American, half-Neapolitan princess Maria Agnelli, a member of Truman Capote's famous circle of "swans" – wealthy, well-married New York socialites. According to the gallery owner Joseph Kraeutler, Avedon "actually had to bend the paper during exposure" in order to give her a more swanlike figure. (It's not like he could just call up Pascal Dangin.)
Then there is Avedon's iconic 1981 portrait, "Nastassia Kinski and the Serpent," which was composed from two separate frames. Of course, in the modern world of rampant retouching, such a technique seems pretty tame. But it is innovations like these that pushed the medium ahead.
Documentary photographs in the show — by Robert Frank, Lee Friedlander, Helen Levitt, Lisette Model and others — demonstrate the power of chance in a skilled artist's hands. Joel Sternfeld's seemingly staged 1978 "McLean Virginia," for example, was really an instance of being in the right place at the right time — but not in the way you might think. In the photo, a firefighter calmly peruses a local farm stand's pumpkin offerings while a neighboring house goes up in flames. Turns out a developer had bought the property for a new subdivision and had offered the unwanted home to the fire department for practical training. Sternfeld happened to be driving by, pulled over and set up his 8×10, and took his shot before anyone realized he was there.
Kraeutler hopes that people will come away from the show with a fresh perspective on these well-known works. "A lot of these are very recognizable, but to view it from the side of portraiture and what was done to accomplish that image, I think is a twist that allows you to see them again in a new way."