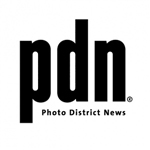 PDN
THE WATER ISSUE
Apr 02, 2010
By Conor Risch
Occasionally, National Geographic magazine creates a single-subject issue that aims to deliver an authoritative look at an important global topic. Their issue focused on the world's fresh water supply hits newsstands this month, with extensive photo stories from Jonas Bendiksen, Edward Burtynsky, Lynn Johnson, Paolo Pellegrin, Joel Sartore and John Stanmeyer.
Through a partnership with Los Angeles's year-old Annenberg Space For Photography, "Water: Our Thirsty World" also comes to life in a three-month exhibition, which includes large-scale prints of photographs created by these and other photographers, along with high-definition digital galleries and multimedia presentations. The exhibition is also accompanied by a series of lectures and workshops, all presented free to the public.
Annenberg Space manager of talent and programming Patricia Lanza spent 13 years at National Geographic as a researcher, photo editor and contract photographer, so the collaboration between the two organizations was inevitable. National Geographic executive editor Dennis R. Dimick came up with the idea of creating an exhibition around the water issue. After a presentation to Annenberg Foundation chairman, president and CEO Wallis Annenberg, who oversees programming at the Space, the collaboration began.
The issues facing our global fresh water supply are innumerable, so in planning their issue the Geographic editors looked for stories that would transcend their locales. "What we tried to do is go to the places that could touch symbolically, in depth and with layers the great issues of water," says Geographic editor in chief Chris Johns.
"The Big Melt," which features photographs by Jonas Bendiksen shot in Bangladesh, China, Tajikistan and India, examines how the receding glaciers of the Tibetan plateau are affecting the water supply to millions of people throughout Asia, and incorporates climate change as a central issue. "When you look at the Tibetan plateau and the ripple effect all the way down into Bangladesh, you're talking about a situation that's being played out [similarly] in parts of Bolivia, being played out in parts of Ecuador," Johns notes. "This could alter pieces of civilization."
"The Burden of Thirst," with photographs Lynn Johnson made in Ethiopia and Kenya, reveals how women in East African communities have literally had their lives taken over by the task of collecting water for their families. Drought, poverty, disease and the failure of water infrastructure projects all contribute to the struggle. But successful water infrastructure projects can transform communities.
Paolo Pellegrin's photographs feature in a story on the conflict between Israel and its neighbors over rights to the Jordan River. And John Stanmeyer's photo essay shot in various places worldwide celebrates humanity's spiritual connection to fresh water resources.
Stories closer to home include the Joel Sartore-photographed piece on the decimation of freshwater animal populations; and an article on California's plumbing infrastructure, with its implications for one of our most populous states, is illustrated by Edward Burtynsky's aerial photographs.
The challenges facing the magazine editors and the exhibition organizers were similar. In the magazine and in the Space's print galleries, visual variety and pacing were essential to engaging the audience. "There's a rhythm and a visual flow through it that is inviting not intimidating," Johns says of the magazine. "We're dealing with a lot of issues that we want to be authoritative about, but there's a nice rhythm of different styles of photography, different subject matter, different story length. Ed [Burtynsky]'s work is a great complement to Lynn Johnson's work. I love the fact that we have such different and distinctive visions."
"A lot of this issue is about no water, or not a lot of water, or really bad water," explains Geographic photo editor Sarah Leen, who created the exhibition along with Geographic executive editor Bill Marr. "[The exhibition] goes back and forth between celebrating [the resource] and digging deep into one topic, where we stay with one photographer's work." Most of the stories from the photographers remain intact in the exhibition, though Leen notes the edit was slightly different for the show.
Hundreds of photographs are also being incorporated into the digital gallery and multimedia presentations, as are interviews with Geographic staff and photographers about the creation of the issue.
One story told in the exhibition that is not in the print issue is about the exploration of water in our solar system, which is illustrated with NASA photographs. Wallis Annenberg asked to add the story after reading about the effort to find water on the moon.
Lanza notes that the collaboration with National Geographic "fits perfectly with what we're trying to do [at the Annenberg Space]: Educate people and also celebrate the art of photography. Nowadays, it's really a luxury to go out and shoot a story for two to three months. That doesn't happen to often, and [Geographic] really can get in depth on a subject like no other magazine or newspaper."
"In this media landscape, galleries and photography reaching people in all kinds of ways is terribly important to us," says Johns of working with the Annenberg Space. "We want to be looked at and are striving to be taken very seriously for our photography. . . . We try to hire some of the most talented photographers to make photography exciting and vibrant in the pages of the magazine and in environments and galleries and shows too."