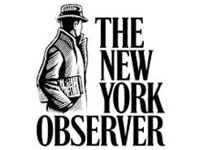 NEW YORK OBSERVER
STAGED, STARTLED AND PHOTOGRAPHED
Apr 14, 2010
By Alex Taylor
Contemporary photography is moving so fast that it's easy to forget that the medium, invented in the late 1830s, is still in its youth. Has it really only been 170 years? It seems longer. This is partly because mass culture and art culture are saturated with images, and because technological tricks like Photoshop continue to crush painting in terms of formal inventiveness and fictive manipulation. More changes are on the way as digital replaces film and further alters the meaning of the medium, which used to mean a kind of documentary "truth" but no longer does. This is creating all sorts of impossible philosophical problems for artists, curators and the public to think about. In the meantime, the gallery HASTED HUNT KRAEUTLER in Chelsea organized "Great Photographs of the 20th century: Staged and Startled," a small, handsome show of work by eminences including Robert Frank, Richard Avedon, Irving Penn, Helen Levitt, William Eggleston, Garry Winogrand and Lee Friedlander. The show runs until May 1.
All the photographers in the exhibition are well known, and about half have received lavish retrospective treatment in New York in recent years. Robert Frank, fresh off last fall's triumph at the Met, is represented by two images from "The Americans," his traveling, late-'50s dispatch from the American Empire of Solitude. And yet it's Avedon, forever gracious, who comes across as the superbly adept figure of the last half of the past century. His portraits of power and beauty types combine courtly manners with an almost interrogatory formal candor derived from his use of silver backdrops and sets. Attention from Avedon equals eminence, even if the subject was as slickly exotic as the German actress Nastassja Kinski posed with a happy-to-see-her boa constrictor. The photo, "Nastassja Kinski and the serpent, Los Angeles, California" (1981), originally ran in Vogue and has been included in the "Staged and Startled" as a glossy, plus-size print.
Also included in the show are a series of contrastable works byEggleston and Friedlander, both masters whose subject may be fairly termed the nova of everyday but of wildly different temperaments. Eggleston is a Southern bred raconteur in love with the lush, dye-transfer color. Friedlander is a rigorous formalist (he works in black and white) who works with a swiveled rhythm and hipster humor. In "New York City" (1966), the artist appears, as a hovering shadow, on the back of a woman's coat. A photograph by Friedlander of, say, a dense street scene, rarely gives itself up for first impressions. Come to think of it, neither does life.
Most of the works in "Staged and Startled" fall within the documentary tradition of photography. An exception is a photograph of the celebrity couple Angelina Jolie and Brad Pitt by Steven Klein, the newest in the show. Titled "Case Study #13 no. 18" (2005), the photo recycles "Bonnie and Clyde"-style glamour- Pitt points a handgun; Jolie bares a tattooed arm and mugs for the camera- in a stripped-down, blank setting that may either be a cheap motel suite or, more likely, a set for a shoot. It's anyone's guess. This is photography surrounded by invisible quotation marks- a distinctly 21st-century picture coming out of the image glut and indistinct memories. Haven't we seen everything before? That is one of those questions photography will have to answer as it heads into a unnerving new decade.
"Great Photographs of the 20th Century: Staged and Startled" continues through May 1 at the Hasted Hunt Kraeutler, 537 W. 24th St., Chelsea, 212-627-0006, hastedhuntkraeutler.com.