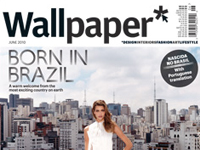 WALLPAPER*
ERWIN OLAF'S "RECENT WORK"
May 12, 2010
By Bethany Wrede Peterson
Fans who missed Dutch photographer Erwin Olaf's exhibition in New York can now glimpse the artist's new work this side of the pond. Olaf's 'Recent Work' exhibition has opened at the Hamiltons Gallery and features the artist's new series 'Dawn & Dusk' as well as newly released additions to his 'Hotel' series from 2008.
[Erwin Olaf]
See more from the Recent Work exhibition
Dusk is a darkly comic re-creation of Francis B. Johnson's 'The Hamptons Album' of 1900, which chronicled 19th-century Native and African American students at a Virginian school. The series was originally commissioned for curator Katy Ryan's Museum of the City of New York exhibition 'Dutch Seen: New York Rediscovered': a celebration of 400 years of Dutch photography.
Dawn is the aesthetic response to the Dusk series, blanched of colour and focusing purely on form, as opposed to Dusk's hyperbole of darkened mood.