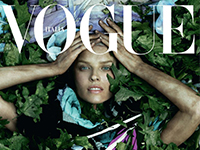 VOGUE ITALIA
STAGED EMOTION: THE ATMOSPHERE IS CINEMATOGRAPHIC
Jun 01, 2010
While Erwin Olaf draws inspiration from the atmosphere of the 1950s and 1960s, Alex Prager warms his shots in the Californian sun. But for both, the narrative codes are those of the cinema
The atmosphere is cinematographic, and everything - light, details and situations - in staged photography, indicates fiction.
Representing this genre are the celebrated Erwin Olaf and the emerging talent of Alex Prager, on display this month in Milan at Form - International Centre of Photography (www.formafoto.it, 17/6-12/9). The exhibition offers the first major retrospective of Olaf in Italy, entitled "Private Lives".
The Dutch artist, who first emerged in the 1990s, has produced a body of work characterised by a personal narrative, and set in an atmosphere inspired by the imagery of the 1950s and 1960s. Self-taught, but with a solid background behind him, the American Prager is on show at the Michael Hoppen Gallery, London (www.michaelhoppencontemporary.com, 10/6-10/8). His images are constructed, characterised by an unmistakable Californian light and the use of solid colours.
(In the picture: Photo by Alex Prager, "Irene", 2010)
Maria Grazia Meda, from Vogue Italia, June 2010 (n. 412), p. 24