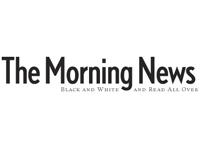 The Morning News
Julian Faulhaber
Jul 12, 2010
by Nozlee Samadzadeh
German photographer Julian Faulhaber captures public spaces—supermarkets and parking garages—in the moments between their construction and when they are opened for public use. His long-exposure photos, which remain untouched after developing and for which he uses only available lighting, look unreal and Photoshopped. But what does it mean to say that reality looks Photoshopped?
Julian Faulhaber lives and works in Leipzig, Germany. His work has been featured in galleries and museums in the U.S., Germany, China, and more. He is represented in the U.S. by Hasted Hunt Kraeutler, where his recent show, LOWDENSITYPOLYETHYLENE II, was on view May 6 to June 26, 2010.
* * *
How do you choose a place to shoot?
I am searching for locations in magazines and in the internet. But most of the time I discover them by walking around in public spaces.
Where are these places?
Most of the places are located in Germany, some are in Japan or the U.S. I prefer Germany, because I do have more time to "explore" a place, to find the important aspects. I'm having many location days, until I start to shoot. This is also part of the work, always looking for the progress of the building, the progress of the surface, similar to a painting in the studio, which is changing every day.
Describe a shoot. Are you alone?
I am shooting with a 4x5-inch camera. Sometimes I need some different variations to get in the story, mostly I already got the picture in my head, because of the preceding location days. I am shooting alone and I prefer this way of photographing. If I would need additional light equipment or a film setting, it would be different.
Do you aim for us to see geometric spaces and shapes in these photos? What should they communicate to viewers?
I think these geometric spaces are shaped in a pure form. In combination with the newness of the material, we're creating this lifestyle, which is so characteristic for our time. The packaging is much more important than the content of a product. It's the lifestyle, which is determining our way of living.
There are no trees and very little grass in these photos—what do you think about the artificial nature of our public spaces?
The nature is adapted to the environment, and is mostly playing an under-part in urban management. The giantism of designing is implicating the reflection of artificial lights in nature everywhere.
Have you ever returned to one of these spaces after they'd been used? What was it like?
I have returned in some spaces after they'd been used, and in the first moment the changing doesn't seem fatal, but it's like a supermarket, where you would be able to buy products, which are three years old, a bit dusty, but still agreeable. Would you buy them?