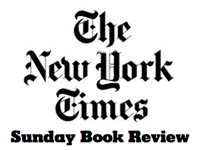 THE NEW YORK TIMES SUNDAY BOOK REVIEW
A VISION OF DARKNESS: BEHIND THIS WEEK'S COVER ART
Aug 06, 2010
by Steve Coates
Once again, an arresting piece of cover art was the talk among Book Review editors in the run-up to the issue of Aug. 8. It is an unsettling wartime scene by Paolo Ventura in illustration of Francine Prose's review of "The Death of the Adversary" and "Comedy in a Minor Key," two remarkable midcentury novels set in Nazi-occupied Europe by the centenarian Hans Keilson.
Was Ventura's dark image a photograph? A drawing? In fact, it is a scale model that Ventura built and then photographed, a technique that he has used for an entire book of chilling World War II scenes, "War Souvenir." (With a foreword, by the way, by the same Francine Prose.)
We asked him to talk about his art, and he sent the following response, along with the photograph of his studio above:
Every June, after the school year was over, my brother and I would leave Milan for our vacation at the seaside with my grandmother. Our train departed from Binario 21 at the Milan Central Train Station. Mounted on the wall at the beginning of the track was a plaque. This plaque was dedicated to the Jewish Italian citizens who were transported from Milan to Auschwitz on Jan. 30, 1944, on a train that departed from that very track.
The plaque read — and I paraphrase — "… at dawn, on a foggy winter Sunday morning, more than 600 Jewish Italian citizens crossed the empty city of Milan to arrive at Binario 21, where they were loaded onto a train that carried them to Auschwitz." Every time I saw this plaque, I was struck by it and this tale it told. The image of these people walking through a foggy, empty city, belongings in hand, with the idea that they would need their things where they were going, always stayed in my mind. This was the start of our trip to the seaside and the spark that started my grandmother sharing her countless stories about her experiences during the war as a young mother of three. With the sensation of these stories in mind, many years later, I started to work on my first project, "War Souvenir."
My working method is fairly simple. I think of the image — mostly while walking during the day, or sitting in a cafe. Slowly, the image appears to me completely and in the tiniest detail. At that point I quickly begin to reconstruct the scene in my studio on two old Ikea tables.
I use simple materials like wood, fabric, cardboard and, of course, paint. In general, I work on a set for about five days and then I shoot the photo. I'm happy when the photo seems as real as possible — when looking at it makes me feel as if what I constructed existed for real and that I had been there in person. Seeing this imaginary, internal world figuratively represented gives me a very comforting sensation.
For a photographer, this way of working is somewhat uncommon. I, however, grew up in a family of painters and illustrators. My father is a widely published author of children's books; my twin, Andrea, is an illustrator and painter, and my other brother is an illustrator as well. (It is worth mentioning that both of my brothers' work has also been featured on the cover of The New York Times Book Review.) Being the one with the least talent for drawing, I decided to become a photographer to avoid the mortifying confrontation with my family. What I have long envied, however, in drawing and painting, is the freedom that they provide compared with photography, which is closely tied to the representation of reality.