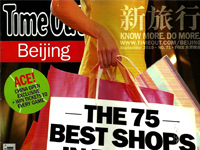 TIME OUT BEIJING
Erwin Olaf
Sep 15, 2010
By Stacey Duff
Few photographers have so fluently inter-coiled erotica and sadness
It's hard to hate any of these pictures. A few of them are easy to love, and one or two, so pretty and sad, almost seem to love you back as if you were some unknowable shadow in their own lives.
Dutch and based in Amsterdam, Olaf is a well-trained commercial photographer, and some work here could pass as an advert. More often, we feel like we're stepping onto fresh turf – as if we've stumbled into the artist's fantasy interiors by way of some strange back street.
Olaf is at his best when he tones down. His prior indulgences in computer-manipulated images produced some hilarious and unfortunate results, as when digitally warped women fondled each other in his 2006 work Le Dernier Cri. His carnivalesque and fantastical exploration of orgies in Paradise the Club had its moments, many of them priapic and coital, but the cluttered, collage-like compositional approach of that particular series threatened to override any dark erotic appeal.
The current show focuses on several of Olaf's more recent series – Rain, Grief, Hotel and Laboral Escena, Spain. The latter presents the artist's photographic reenactments of celebrated paintings by Spanish masters such as Caravaggio, El Greco and Zurbaran.
Some of the photos fail to recreate anything approaching the tension of the originals. Still, Olaf's version of El Greco's 'Dama Del Armiño' is stunning and his 'Jester Calabacillas' is just as fresh and neurotic as the original Velázquez.
Olaf meshes 1950s hairdo with neo-Oriental motifs in 'Barbara', while 'Room 1134' from the Hotel series is both sweet and sad; a doll-like woman lounges on her bed – looking beyond us as if her mind were somewhere else – in a gauzy white nightgown, silk panties and chic velvet shoes. Elsewhere, 'The Practice', depicting two women in a clinic, manages to be both tense and tender, while 'The Hairdresser' captures a rainy afternoon in what could pass for some small American town from the 1950s.
Wherever he falters, he falters lightly. Olaf is always competent. Sometimes, he is brilliant. Few photographers have so fluently inter-coiled erotica and sadness, or so convincingly recreated the mood of some irrecoverable afternoon that lingers while it dies.