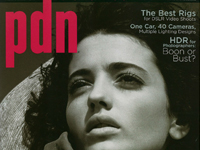 PDN
Albert Watson's Reflections on Style
Oct 01, 2010
By Jacqueline Tobin
The legendary photographer reflects on his career as UFO- his 40-year retrospective of style, beauty, fashion, personality and power- makes its debut.

Albert Watson has been photographing for the past four decades and most, if not all of us, have probably come across a magazine cover, celebrity portrait, landscape or still life by the prolific shooter at one time or another. With no end to his long and successful career in sight, Watson is now getting ready to celebrate the debut of a new book at the end of this month. Titled UFO (Unified Fashion Objectives), it's a 40-year retrospective of his fashion photographs—many of them iconic and some of them never seen before by the public.
"Why this book now?" I ask as we sit across from one another in Watson's Tribeca studio in lower Manhattan. "Why not," he shrugs. As I look around the studio at the framed prints of his work adorning every wall—like the massive, floor-to-ceiling sized image of a NASA space suit; a whimsical shot of a monkey holding a gun ("Imagine how hard it was to get him to do that," Watson quips); and a widely seen portrait of model Kate Moss, her face covered by a torn veil—it becomes almost impossible to turn away. As made evident by the work on display, Albert Watson is clearly a photographer who is always looking for, and usually finds, something interesting to photograph. Early on in his career, though, he says that people didn't "get" him or what his work was about.
"Back in the late Eighties/early Nineties no one really knew who I was or what I did," the Scotsman reveals, "and then my book Cyclops came out [1994] and it cleared up everything and people understood right away, 'This is who I am.' It was just a matter of me presenting something that was interesting to look at, and something of interest to other photographers."
Cyclops featured the whole swath of Watson's imagery—from fashion and portraiture to landscape and still life—demonstrating that he was adept at tackling almost any photographic genre and making it his own. His long client list—Rolling Stone (for which he shot at least 40 covers), Vogue, The Face, Arena, Prada, Chanel, Levi's, The Gap and many, many more—further drove home that point. More importantly, Cyclops was full of technique and showcased his use of light and shadow to create dramatic images. It was also, he adds, more about him as a photographer. UFO, however, is primarily about his work in the fashion business for so many years. Though here too, the diversity of his interests and subjects stands out.
Watson says he spent a solid four-and-a-half months digging through and assessing four decades' worth of images to amass the 11 x 14-inch, 400-page, 350-image tome of style, fashion and beauty work. And there was plenty to choose from, he acknowledges, having photographed more than 100 covers of Vogue magazine worldwide during his career, as well as assignments for Harper's Bazaar, Elle and Mademoiselle. He also photographed the fashion collections in Paris and Milan for 25 years. (Many of the photos in UFO have been featured in gallery and museum shows and sell as limited-edition prints. A large-format print of Kate Moss, one of an edition of five, sold for $110,000 at a Christie's auction in London in 2007. )
"Pulling material for UFO required a massive amount of research," he admits. "Sometimes we'd spend four or five days just looking for a specific genre, or a specific thing." Fortunately, he adds, his archives from 1984 and up to current day, are "very, very, ridiculously well organized. Previous to that, things between 1978 and 1984 were quite well organized. . .and before 1978, everything was in boxes."
Some of the images selected are iconic Watson, like the haunting "Kate Moss In Torn Veil, Marrakech, 1993" or the classic "Gisella, Paris, 1990," shot in the Jardin des Tuileries. Some of the images go as far back as 1971. He was also intent on including a wider range of images that don't immediately seem to fall under the umbrella of fashion photography, like several celebrity portraits and still lifes, like the one he points out in UFO, of random objects placed together on one table, that ran as a double-page spread in Italian Vogue as part of a larger story on dresses as objects.
While Watson says the book is not laid out chronologically, he did include some of his older work in the beginning pages to show the progression of his style and his career. "Initially I felt that some images I put in weren't strong enough to include in terms of photographic quality or technique when compared to my later work," he explains, "but I kept them in because the real importance lies in the year they were taken."
He included, for example, a straightforward color snap of three blonde models shot for an American Vogue cover in 1976. "Initially, I didn't think the image was strong enough to include but the significant thing is that it was shot in a bicentennial year," he explains. It was also the first shoot he'd done for the magazine and he says it was enormously successful. "It ran everywhere as a thing to look at it," he says. "But now you dig up that same picture and it looks rather ordinary. Still, we put it in because at the time, it was important."
"Albert Watson is a photographer who takes fashion pictures. He is not a fashion photographer," photo historian and curator Gail Buckland writes in UFO's foreword. Watson says he selected Buckland because he preferred to have a "serious writer from outside the fashion industry" to offer her own take on the book to its readers.
When he did shoot fashion, which was for a good 20 years of his career, a lot of it incorporated his love for filmmaking. UFO includes a couple of images from a fashion shoot he did for The Face in the early Nineties that epitomize his cinematic style. In one frame, three well-dressed African-American men seem to be having a heated exchange. In the next, there are six men in fashionable suits, arms linked as they walk strong and proud towards the camera. What appears to be a policeman's torso, his handgun holstered on his hip, dominates part of the foreground; another policeman stands behind the men. "The shoot was based on the life of Malcolm X," says Watson, "and I took about 18 pages worth of images for it. It was very well planned and every frame had power and strength and was shot like a movie."
He credits his background in graphic design and filmmaking with inspiring his approach to imagemaking: As a photographer, he is all about texture and composition and problem solving. His graphics background was also the inspiration for the title and the concept for UFO, which stands for Unified Fashion Objectives. "I liked the word as a graphic and seeing how the letters work strongly together," he says.
As Watson continues to flip through UFO's galleys, he zeroes in next on an eye-popping image of a blonde model dressed in a vibrant blue unitard and blue high heels, bent over to touch the top of a teeny, tiny robot on the floor in front of her. It ran in the Christmas issue of British Vogue in 1978. "A lot of what I put into the book conveys what was fashionable at that time," he explains, "and this was considered a very strong image with modern styling in its day." Sadly, sighs Watson, the model, who was just 22 when he photographed her, recently sent him a photo of herself as she is in present day—a wheelchair-bound 53-year-old stricken with Multiple Sclerosis. "The book is all about time and the role it plays in fashion and in our lives," he says.
Going one step further, Watson says he was interested with UFO in seeing if images he took 30 years ago held their own against images he'd taken more recently. "I wanted to show how the earlier work was 'of its time' and that I am proud of what I did back then," he explains.
While Watson notes that standards "move on" and that images that looked avant garde when he made them no longer "hold up in some way against the monumental look and more iconic quality that comes with better technical and general ability of the later work," he felt some photographs were important to include, he says, because of the sheer effort that went into making them.
"I view my image of the Tutankhamun Glove as 98 percent concept and 2 percent photograph," he says of a shot taken at the Museum of Egyptian Antiquities in Cairo in 1990. In the book the image runs alone, positioned to the very far right of a spread against a stark white background. The glove looks as if it's about to disintegrate at any moment. "Any one of 10,000 photographers could have taken that shot but it took us two and a half years of constant pressure and even letter-writing by a New York Senator to get me into the Cairo Museum to take it," he says proudly. "Once again, it wasn't about the photograph or its technical quality per se, but instead about what the object was and what it took to photograph it."
There are plenty of other images in the book that Watson is quick to jump in and offer explanation, as well as justification, for.
"Yes, yes, I've been asked before why I put a landscape or a still life or a celebrity portrait in a fashion book," he exclaims as his hint of Scottish brogue becomes stronger the more he talks about an image. He was well aware that his photo choices might become an issue later on because it became one in his studio when he and his staff were laying out the book. He offers an explanation in UFO:
"Why juxtapose a shot of a building with steam rising around it with a guy in a suit?" he writes. "It is because, for me, fashion is not just about showing clothes, it is about showing all that inspires and frames the clothes and determines our changing ideas of fashion. Is this twisting the idea of fashion by putting such diverse imagery in the book? No. I think you can. In fact I think you should."
A few paragraphs later in UFO he continues on the same theme: "I never wanted this book to be full of shots of clothes on models. For me, there is a lot more to fashion and photography than that. People will respond to the images as photographs; there will be energy, depth, and surprise from mixing images that pull and push the idea of fashion and fashion photography."
After awhile, Watson decides the rest of the images are "very well-captioned and don't need further explanation." Instead he turns his attention towards a set of galleys for another new book he has coming out, this one at the end of the year, called Strip Search. It's based on a ten-year project creating a behind-the-scenes portrait of Las Vegas and will be filled with large-format landscapes, interiors and portraits. (An accompanying gallery exhibit at New York's Hasted Hunt Kraeutler gallery will take place in October, and Watson will be discussing the work in a keynote address at the PhotoPlus Expo in New York City.)
One image from Strip Search covers a large portion of wall in Watson's studio, depicting a sign on the Vegas strip featuring an image of the American flag with the word GOD emblazoned over it, standing tall against a surreal, neon sky. "I look at that and think, 'I'm a photographer period, so if I see a God sign on the Vegas strip I'm going to photograph it because how can I not? I'm a photographer.' I don't only shoot fashion or only shoot still life or only shoot this or that. I see something I like and I respond to it," he says.
"It's been 16 years since Cyclops was first published," he continues, "and now, almost two decades later, along comes UFO, which is really a cousin to Cyclops. And if you have both UFO and Strip Search in your hands, then you basically have an 850-page update on me and that's really all you need."
In September, Watson accepted the 2010 Centenary Award from the Royal Photographic Society in Bath, England. PQ Blackwell is publishing both UFO and Strip Search. For more information, go to http://www.pqblackwell.com/.
The Keynote presentation of "Strip Search: Albert Watson in Conversation with Laurie Kratochvil" takes place at PDN's PhotoPlus Expo on Friday, October 29, from 11:30 to 12:30 p.m. Join Watson in conversation with photo editor Laurie Kratochvil as they discuss the making of the book.