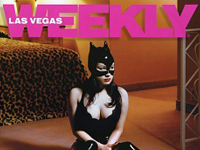 Las Vegas Weekly
Albert Watsons New Photography Book Captures Vegas...
Nov 18, 2010
By Sarah Feldberg
There's a photo of a girl in a vinyl cat suit hanging in Albert Watson's New York City studio. The young woman sits on a hotel-room floor gazing intently, the expression on her face focused but not angry. Her bright red lips are pursed in a driven pout, and each hand rests on the inside of a shiny, shrink-wrapped thigh. Her name is Breaunna, and she is a professional dominatrix from Las Vegas.
Watson has plenty of photos to choose from to decorate his studio. He's one of the most successful fashion and commercial photographers of the 20th century, and his catalog includes Tupac Shakur holding a small, silver gun; Grace Jones riding Dolph Lundgren in an intensely tangled, muscular piggyback; and Kate Moss, naked. Then there's the circa-1999 Michael Jackson series, in which he's dancing with abandon. And, of course, the iconic image of a dismayed Alfred Hitchcock in a tuxedo holding a dead goose by the throat. Photo District News, a leading photography trade publication, named Watson one of the 20 most influential photographers of all time. Over the course of his 40-odd-year career, the Scottish-born photographer has shot for Prada, the British royal family and Rolling Stone, among many others. But when Watson snapped his photo of Breaunna in a Las Vegas Hilton hotel room nine years ago, he was shooting only for himself.
On December 1, Watson will release Strip Search, a two-volume photography book devoted entirely to Las Vegas. Taken over more than four years of visits to the city, the 300-plus-page project showcases the beauty in the Valley's working stiffs, empty lots and damp corners. It's sexy, funny, scary and consistently surprising—much like Las Vegas itself.
"I began doing it like a National Geographicproject, like, 'Let me take you to Vegas,'" says Watson, who launched the undertaking in the late '90s. "I realized at the end of the first week—where I was photographing 12-to-14 hour days—that it was too National Geographic and not enough art. And I realized then that it was a much better thing for me to photograph exactly what moved me emotionally in Vegas."
Watson first visited the city in 1971 and kept coming back. He likes its food, its entertainment, its fantastic people-watching opportunities, even its slots. "I know slot machines in Vegas very well," Watson says with a chuckle. "Forty years of putting coins in slot machines. It's so mindless. It's very good for me. You don't even have to pull the handle now." Strip Search is the product of his affection for Las Vegas' "eccentric" personality. After finishing a book commissioned by the then-prince of Morocco, the photographer had hoped to assign himself something "loaded with color and a certain amount of visual decadence. Obviously, Vegas provided that. So that's why I chose Vegas."
Working out of the Budget Suites hotel with a small team of assistants, Watson built a collection of photographs that tell the Valley's story without any of the glad-handed tour guiding of other city-centric photography books. Instead of focusing on the Strip's marquees and the Boulevard's famous outline, he captures the interiors of adult motels, a barefoot Sandra Murphy shot in 2000 inside the Clark County Detention Center and everyday Las Vegans. One of those was Breaunna, the dominatrix he spotted in a local bar wearing a leopard-print jumpsuit and high-heel boots. She became his muse and his envoy into a side of Vegas that he says Clark County tries to "keep a little bit quiet"—a world which Watson captured in graphic clarity, shot with a film-noir grittiness that reeks of cigarette smoke and stale booze. Other images are almost disquieting in their glossy stillness, the subjects frozen like mannequins in Strip parking garages and luxurious hotel rooms, faces void and eyes unfocused.
"I wanted not one of these fat-tourists-from-Ohio slant, but kind of a hip look at it. That there were punks in Vegas, ya know? People who really know Vegas know that that's a component, but worldwide people don't know that. You say 'Vegas' and they still have the ghost of Frank Sinatra in their head." Strip Search could help wipe that image away for good. It's a coffee table-ready homage to a confusing stretch of desert and steel that hides something odder and more interesting just around the corner. "Vegas is one of those places that really delivers what you imagine it to be," Watson says. "There's a lot of places you go and it's not quite as fabulous as your imagination. However you imagine Vegas, it's actually more surprising than you would think."