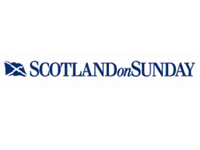 Scotland on Sunday
Albert Watson has made a career out of photographing the bold and the beautiful but his Scottish roots keep pulling him to new projects ... and potential retirement
Dec 07, 2010
By Ruth Walker
Kate Moss got naked for him in Marrakech on her 18th birthday. Alfred Hitchcock played the fool for him, brandishing a festive goose, its pallid throat wrung tight with Christmas decorations, all the better to see that tree trunk neck of his. And Mick Jagger turned himself into a leopard. Is there anything people won't do for Albert Watson?
Over four decades as one of the world's most respected and influential photographers, his images have graced the covers of Vogue and Rolling Stone. He's had everyone from Bill Clinton to BB King and Jack Nicholson to Michael Jackson in his sights, and is as at home shooting Vegas showgirls as he is capturing the standing stones of the bleak Orcadian landscape. His film posters, meanwhile, range from Memoirs of a Geisha to Kill Bill and The Da Vinci Code.
This year he has been awarded yet another accolade – the Centenary Medal from the Royal Photographic Society – and has teamed up with another iconic Scottish export, Macallan whisky, to produce a series of unforgettable images for the brand's Masters of Photography series. Not bad for a man approaching 70, who also happens to be blind in one eye. Drawn to collaborate with Macallan thanks to the Scottish connection – "if it had been a Scandinavian whisky company I wouldn't have been interested" – Watson has created photographs following the journey of oak casks from the trees in northern Spain to their final destination in the Highlands of Scotland. The prints were unveiled in London last week before going on a global exhibition tour. Watson may have left Scotland for his adopted home of New York some 40 years ago, but there's no mistaking that Edinburgh accent – softened by a slight mid-Atlantic twang. Dressed for the Arctic weather in knitted hat and hoodie, he's charmingly, disarmingly humble – though occasionally and inexplicably slips into the royal 'we'. And while he must surely no longer need to work – one of his Moss-in- Marrakech snaps, for instance, sold for £183,000 back in 2007, five times the expected price – he is busier than ever.
Put that, at least in part, down to the good old Scots work ethic. You can take the boy out of Penicuik ...
"Once you've spent your first 24 years in a place, that's who you are," he says. "Of course, there are other influences on top of that; other things that form you. I've worked in New York for 35 years – that obviously has an effect. It's a tough place, especially for photography. There are tens of thousands of photographers there. But in the end, you still have a Scottish work ethic."
"I think one reason we're so successful with celebrities," he adds, "is that we're always very down to earth and straightforward. And also very workmanlike and professional."
Born in 1942 to a boxer father and gym teacher mother, Watson attended the Rudolf Steiner School in Edinburgh before going to Duncan of Jordanstone College in Dundee and the Royal College of Art in London. "My father was very even-tempered. He never seemed to panic, ever," he says. "Whereas my mother was an absolute force of nature. She was always very busy doing things. Her mother was the same. She has very good energy, my mother. She's still alive – she's just had her 90th birthday."
Watson believes he inherited the best parts from both his parents, essential qualities for his chosen career. "One thing you want to be as a photographer is calm, organised and together – I get that from my father. But you need an energy and an enthusiasm, and I get that from my mother."
"You also need a whole support team behind you," he adds, "which my wife has been for years."
He met Elizabeth when he was just four years old – the pair attended the same nursery school. And although he describes her as his childhood sweetheart, they didn't embark on a relationship until they were at least past the age of consent.
"We knew each other between the age of four and eight years old, then we both moved away," he explains." By chance we met again when we were 17 and after two months of going out with each other we discovered this connection. When we looked at the class photograph of 32 kids we were actually sitting together."

It was Elizabeth who gave him his first camera for his 22nd birthday, while he was still working as a graphic designer, igniting his passion for photography. Five years later the pair emigrated to the US on a scholarship exchange and have never looked back.
His professional career took on a skyward trajectory when Harper's Bazaar commissioned him to shoot Alfred Hitchcock for its Christmas 1973 cover. It remains one of his favourite images to this day, "not because it's the best photograph – there are more powerful pictures than that – but it was an important picture for me".
The remit was for an image of a fully cooked goose on a platter. "But I talked him into doing the goose getting ready to be cooked," says Watson. "I just took a chance that he'd accept it.
"I was very nervous, of course, because I'd never photographed anyone famous. In fact, nervousness doesn't even begin to explain it. But he was so nice, so communicative. And he loved being photographed."
It helped, too, that Watson can talk for Scotland. "A photographer who photographs people, the best weapon in his arsenal is his own personality. I'm chatty – you know how Scottish people can be."
And while he has managed to charm the pants off everyone from supermodels (literally) to movie stars (metaphorically), there always has to be one bad egg. "I've had a lot of divas," he says, "but the person who was really difficult was Chuck Berry. He was a pain in the neck. He was simply rude. I had travelled a long way to photograph him but if I'd known what he was like I would have turned it down. I went all the way from New York to New Orleans and ended up doing two photos – and when I say that I mean two frames. One was on Polaroid and one was on film."
Notorious tantrum queen Naomi Campbell, on the other hand, is a veritable pussycat. "Naomi was never a problem because I've known her since she was 15, therefore Naomi would never give me any trouble. She knows that if she gave me trouble I'd simply walk away, so it wouldn't happen. She's very sweet and funny and nice ... with me. But I do see some people who have problems."
Photographing the wedding of Prince Andrew and Sarah Ferguson brought a different kind of challenge. "I always knew, whatever happened, I was going to enter hell for 30 minutes and at the end I was going to come out of it. To actually photograph 62 royals, then 51, then 47, then 41 and then 32 – you keep taking
people out. And because Fergie's mother was connected to an Argentinian, the Queen couldn't be photographed next to him because we were still technically at war with Argentina. So we had to do two separate pictures."
Add to that mix another volatile ingredient and you have a photographic nightmare waiting to happen. "When you look at the pictures of Charles and Diana's wedding and compare then to the ones I did of Andrew and Fergie there is one major difference. Children. I had eight or nine children there and they were not easy. They were running around and they wanted them to be in the picture.
"Of course," he adds, "creatively it was nothing because everybody just stood there. But it was a great honour to be asked and it was an unforgettable experience." An added bonus was meeting the monarch. "I actually loved the Queen. I sat and chatted with her for about half an hour the day before. I thought she was fabulous. Princess Diana was nice too."
So, of all those beauties he has photographed, who has been the most beautiful? Uma Thurman? Christy Turlington?
"As far as beauty is concerned," he says, "I would probably say I've photographed more beautiful men than women. Many times I've photographed Johnny Depp. Who's more beautiful than him? And Sean Connery. He just seems to get better all the time. He's a bit like Cary Grant in that.

"But of course there are some beautiful women. When she was in her late 20s, Sharon Stone was very beautiful. Sometimes you find someone who is not so beautiful but because of the charisma and the way their face is put together they become electric in front of a camera – like Penelope Cruz. When you meet her, there is just something about the way she looks at you and the way she smiles. I found her very interesting to photograph."
Unlike some other photographers we could mention, though, Watson prefers to keep a low profile, letting his subjects hog the spotlight.
"I always wanted it to be about the photographs, not about who I was," he says, adding: "But the only reason we keep a low profile is that we are always working. We're never going to events. I know Annie Leibovitz quite well and she's very famous. But in the end our pictures sell for a lot more than hers. And I would rather be myself."
And anyway, Leibovitz is strictly a celebrity photographer, while he has never restricted himself to just one discipline. "I like a little bit of everything. What gives me most pleasure is what I'm doing on that particular day. If I'm doing landscapes for three months, I'll be very happy to see a face again. If I'm doing faces, I'll be happy to see a still life."
But of the "hundreds and hundreds of thousands" of photographs in his back catalogue, only one has pride of place in his New York apartment. "We just made it because we had an empty space," he explains. "But I'm pretty Scottish in that I don't want my own things around me so much. I have other photographers' work there: I have Eugene Smith's work, James Van Der Zee, Richard Avedon. But it's mainly not photography. I have a lot of Japanese prints, a few paintings, I have a few Warhols – three different series of Monroes."
Would he have liked to photograph Marilyn?
"Yes, I think she was very easy to photograph. In a weird way she's a bit like Johnny Depp: you could never take a bad picture of her." In fact, there are few other people he'd like to get in front of his lens.
"I was supposed to go down to Washington the day of the inauguration because they asked me to do pictures of Obama and I couldn't do it. When they try to book you for a job like that they always give you just two days' maximum notice. On a Wednesday they'll give you a call and say, 'Can you come down to Washington on Friday?' On the off chance, sometimes you can – but in this case I couldn't."
His non-stop workload means he must travel to Marrakech, Paris and Moscow before he can get back to spend Christmas with his wife in New York. But would he ever consider returning permanently to Scotland? "Absolutely," he says without hesitation. "I'd have no trouble with that at all. I think I have the right mentality now. I think it would frustrate me if I was coming back to work but it wouldn't frustrate me if I was just coming back to live here."
The problem is, he's unlikely to quit working anytime soon. "The sad thing about photographers is that, for some reason, they just don't retire. There's a famous
photographer who died a year ago in New York called Irving Penn and I remember bumping into his assistant just over a year ago. I said, 'How's Mr Penn?' and he said, 'Oh, he only likes to work three days a week now.' He was 91 years old."