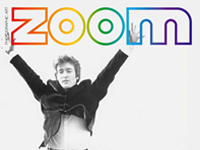 ZOOM MAGAZINE
VISION USA: NATHAN HARGER
Jan 01, 2011
Nathan Harger, born in Cleveland in 1976 and with an MFA, made his debut in Spring 2009 in the collective exhibition, "Contradictions in Black and White", together with masters such as Ray Metzker, Harry Callahan and Irving Penn. His photographs demonstrate his interest and attention to the American industrial landscape with its towering cranes, bridges and factories, or where airplanes and cars pass by, all captured in his own inimitable style.
In presenting this photographer, we have taken the opportunity to speak with Sarah Hasted. "Nathan Harger was one of my MFA students at Parson's. I mentored him while he developed his series and decided with Joseph Kraeutler to give him a solo show." Since then they have placed Harger's works in the permanent collection of the Cleveland Museum of Art. In the Hasted Kraeutler exhibiting calendar there are many emerging photographers. We ask her what criteria are used in selecting them.
"I and Joseph Kraeutler look at everything. Often the artist is recommended by a colleague or friend, but art fairs and group exhibitions are a good way to see the work of emerging artists."
And finally, a question about the photography market- who were the best0selling photographers in 2010? "Hasted Kraeutler sells all of their artists constantly and consistently. Often the artists that have exhibitions during a year will garner more sales because of the exposure. Being shown in the gallery over the next few months will be the photographs of Michael Benson (3 February - 26 March) and Andreas Gefeller with "The Japan Series" (March - May 2011).