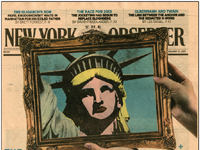 New York Observer
Beyond Point and Shoot : Michael Benson
Jan 13, 2011
by Alyssa Noel
January 31, 2011
A strong and select slate of photography exhibitions opens at New York galleries next week and in early February. They feature photographers who are known for pioneering specific techniques or who have gone beyond-sometimes way beyond-the kinds of commercial images they may be best known for. For these artists, pictures are far more than point-and-shoot.
"Beyond"
Hasted Kraeutler Gallery
537 West 24th Street
Feb. 3-March 26
Michael Benson's photographs of planets, featured in an exhibition at the National Air and Space Museum in Washington, D.C., last year, are both breathtaking and baffling. His detailed image of Saturn, for instance, boasts deep, earthy tones swirling around a smooth sphere. Mr. Benson digitally reprocesses photos from NASA's unmanned satellites to create the striking views. Without context, a viewer might have trouble believing they're looking at planets several hundred million miles from Earth.