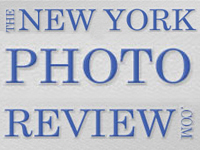 THE NEW YORK PHOTO REVIEW
ERWIN OLAF : DE LA MAR
Jun 01, 2011
A group of large photographic montages by the Dutch photographer Erwin Olaf is on view in the back room of Hasted Kraeutler. While previous shows of Olaf's work have featured his painstakingly crafted, high- resolution images of staged scenes with their totally modern, enigmatic meanings, this show is a little more rooted.
Commissioned by the De La Mar Theatre of Amsterdam for its new performance space, the photographer has utilized the company's stage and performers (identified only as well-known Dutch actors) to recreate scenes from its repertoire. These include: Amadeus, Angels in America, Waiting for Godot, A Streetcar Named Desire, The Three Sisters and Who's Afraid of Virginia Woolf?.
All the images have a distinctive look. Based partly on old painted theater billboards, and with a bit of 1950's paperback cover art thrown in, they are, at the same time, 21st century, super-high resolution, color photographs.
Olaf's thoroughly modern touch comes when you start to get closer to each print: you can see the actors eyes and skin and you realize that these are indeed real people, occupying a real, albeit theatrical, environment.
As in the billboards, we witness a peak moment of the drama, almost as if the photographer had shouted 'hold it!' and then snapped the shutter. Each character perfectly posed, then perfectly frozen in place, any indication they were moving skillfully edited out — there is no flowing hair here.
The old poster look is further enhanced by essentially 'colorizing' the characters, limiting the chromatic range of each to mimic the effect of using one color to fill an entire area. Overall compositions are defined by the stage set, but it would appear that each actor was lit and photographed individually-- the final image put together with Photoshop. But you have to look really hard to find the evidence of this.
In Olaf's earlier work there was an imaginative element to his scenes, arising from his own muse. In this series he is really using his skills on a commercial assignment. So, is this still art? Oh who knows? But, they are fun to look at, and if they lack a personal vision, they can still be admired for their sheer technical craftsmanship.