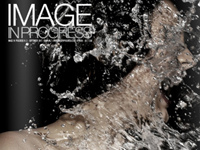 Image in Progress
Theater In A Click!
Jul 01, 2011
By Emanuele Cucuzza
Celebrated Dutch photographer Erwin Olaf tells the secrets of the "De La Mar" project, his latest series of photos just exhibited at the Hasted Kraeutler gallery
Mixing photojournalism with studio photography, Erwin Olaf emerged in the international art scene in 1988 when his series "Chessmen" was awarded the first prize in the Young European Photographer competition. This award was followed by an exhibition at the Ludwig Museum in Cologne, Germany. Since then Olaf has continued to explore issues of gender, sensuality, humor, despair and grace in each successive series…
De La Mar is a new series of photographs based on eight classic plays and starring famous Dutch actors. The project, which was on exhibition until July 1 in the Hasted Kraeutler gallery, was commissioned by the DeLaMar VandenEnde Foundation for the new De La Mar theater in Amsterdam. In these pictures Erwin Olaf presents his interpretations of Angels in America, A Streetcar Named Desire, Amadeus, Cyrano, Who's Afraid of Virginia Woolf?, Sunshine Boys, Waiting for Godot and Three Sisters.
When I heard about this new project of yours I was pleasantly surprised to learn that work of this kind could be commissioned for the promotion of a theater. But then I thought that this was a perfect match. I have always thought of your images as very "theatrical"... Can you tell us about the origin of this project?
"I was contacted by Mrs van den Ende, Janine. I was very flattered, as they tried to create a building, a theater for the people, with tastes for everyone. Included would be a permanent photography exhibition. I liked the idea of the theater that caters to a broad spectrum, with big shows, but also intimate cabaret."
Did you choose the plays to be re-enacted?
"No, I picked a scene that I thought would be immediately recognized by the public as from that play, we tried to go for the iconography of the plays."
(Partial article)