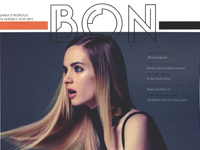 Bon
Amy Phelan
Aug 01, 2011
Over the past eleven years, Amy and John Phelan have amassed an impressive collection of more than 600 pieces, from painting and sculpture to photography and video, with Picassos and de Koonings sitting alongside works by Damien Hirst, Cindy Sherman and Thomas Ruff. The range of their collection demonstrates the enthusiasm and passion for art that makes them perfect trustees of the Solomon R Guggenheim Museum, the Whitney Museum, Aspen Art Museum and Creative Time in New York. " I love learning, and meeting really interesting people." says Amy. "And having the opportunity to both develop relationships and contribute to the vision shared by the artists, curators, educators and collectors involved in these organizations."
What does it mean for you to collect art?
For me, collecting art is a passion, and is one form of creative self-expresion. Art to me really addresses itself to the mind, not to the eyes. It can bring out so many thoughts, emotions, associations and experiences. I feel we are stewards of the work and I am so grateful to be able to collect and live with the amazing pieces we own.
What do you look for in an artwork?
Our rule for collecting is simple: we buy what we absolutely love and cant live without. We tend to collect figurative work. But our minds are open to different kinds of art, as long as it's something that moves us.
You're involved in other philanthropic ventures. How does this complement your collecting?
I have learned a great deal and really enjoy working with organizations that have a shared purpose and vision, and that do so much good for the community. Serving on the board of a public art organization, like Creative Time, reminds me that art is not just something that hangs on a wall. It's an act, a performance, and also feeling arising from the creative spirits of others. This opens our minds to the many possibilities for art to wow us all. Where art flourishes-and when culture flourishes, people flourish.
If you had to chose, who would be your top five artists in the collection?
Jean-Michel Basquiat, Jim Hodges, Marilyn Minter, Delia Brown and Marc Dennis
Amy Phelan was born and raised in Dallas and Currently resides in Manhattan. In addition to acting as trustee to several museums, she is an active member of several charitable organizations. Amy Phelan also likes to feature in the work she commissions, as demonstrated by the Marilyn Minter images of her lips. (Opposite).