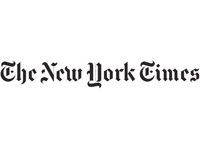 The New York Times
THE ART AND THE HEART OF THE DEALER
Aug 05, 2011
by Roberta Smith,
Summer is the time when New York's commercial galleries break away in large numbers from the monthly grind of one- and two-artist exhibitions, almost as if let out of school. Art dealers of every stripe embrace the group show, whose wonderfully elastic format accommodates all manner of ambition and desire, curatorial and otherwise, serious and not.
"Don't Quit Your Day Job" at Hasted Kraeutler, a photography gallery in Chelsea, is an unusually playful, if also fraught, example of the form: It delves into the artistic ambitions of art dealers themselves. A slightly bittersweet, self-referential effort, it gathers together 52 photographs taken between 1973 and the present by 19 American art dealers from several generations, including Sarah Hasted and Joseph Kraeutler, the gallery's partners.
The show's self-deprecating title seems intended to lower expectations. It announces, in effect, that there is nothing earth-shattering to be found here and that the participants themselves harbor no illusions about their efforts. Do they protest too much? Not really. It turns out that great photographer-dealers in the tradition of Alfred Stieglitz are few and far between.
But lowered expectations and curiosity are not mutually exclusive. Art dealers are in some ways the most conflicted and maligned members of the art world and also the most essential to its lively functioning. After artists, they risk the most, putting their money where their taste, and usually their hearts, are. Anything that sheds further light on their personal connection to art is by definition interesting, especially when, like me, you've spent roughly 40 years enjoying and learning from the exhibitions they make available to the public at no charge.
The show's fair-to-middling quality is ultimately part and parcel of its value as a collective expression of aesthetic longing. It seems to confirm the suspicion that there's an unusually high number of former artists and artists on hiatus among art dealers, including, as here, once and would-be photographers. After all, having come to the often painful realization that you are not, or not yet, an artist, what better way to remain closely involved with artists and the art-making process than by opening a gallery?
If "Don't Quit Your Day Job" provides more to think about than to look at, it is not without visual interest. The works included cut a fairly wide swath in terms of photographic ideas and styles. Mr. Kraeutler's 1995 picture of a rustic bridge over a wood-flanked stream has a familiar Pictorialist beauty; it might almost be by the early-20th-century American photographer Alvin Langdon Coburn. The crisp images of modest adobe structures that Laurence Miller, a New York gallery owner, took in Albuquerque in 1973 have more formal and social muscle and appear to split the difference between Walker Evans and the New Topography.
There's an appealing, if generic, bohemian murkiness to the photographs of women taken in Minneapolis in 1975 by Deborah Bell, a former Chelsea art dealer who is now head of the photographs department at Christie's. One, showing a woman holding up a hand-woven scarf, could almost have been among the snapshots of romps in his studio that Ernst Ludwig Kirchner made around 1912, or something that Cindy Sherman left on the darkroom floor when making her film-still images in the late 1970s. "Inna," a 2002 photograph of a woman smoking, by Sasha Wolf, a Chelsea dealer, also qualifies as Shermanesque.
Some of the works here are stylish snapshots, like the two color photographs that Jessica Fredericks, of the Chelsea gallery Fredericks & Freiser, took in 2009, showing her daughter enveloped in a fur-trimmed parka and wearing cat (or "Cats") makeup. The scratched, off-kilter, from-the-knees-down shot of a woman walking through a lobby door — taken in 1997 by Zach Feuer, another Chelsea dealer, when he was in the first year of the B.F.A. program at the School of the Museum of Fine Arts, Boston — has more of an edge and is reminiscent of the truncated society images of Jessica Craig-Martin.
There are very few forays into the larger world of art. In works from 1977, the esteemed San Francisco dealer Jeffrey Fraenkel uses images of empty photo booths, with the curtains either drawn or open, to riff on the Minimalist grid and Process Art. (Some of the sepia-toned decorum of these works seems to persist in the handsome, lavishly illustrated catalogs and exhibition announcements produced by Mr. Fraenkel's gallery.)
Kim Bourus, one of the show's youngest participants and the owner of the forward-looking Higher Pictures, a photo-oriented gallery on upper Madison Avenue, contributes a grid of 12 color images from this year. The exhibition's only allusion to performance art, they show her in front of a grated storefront conducting a three-card monte game.
Sometimes the images are so weak that you want to give the dealers credit for having the critical acumen to abandon photography. These include the nebulous, weirdly lighted female nudes that Peter MacGill took in 1976, seven years before he founded the Pace/MacGill Gallery on 57th Street in partnership with the Pace Gallery; and a series of irritating portraits from 1988 by Steven Kasher, the Chelsea dealer, which consist of a circular image of a face inset with a second, smaller, also circular image that renders it illegible.
Many of the pictures here are homages, conscious or not. The tribute-paying instinct is expressed most directly by David Fahey, of the Fahey/Klein Gallery in Los Angeles, who for more than 30 years has made portraits of the photographers he admires or works with, including Joel-Peter Witkin, Manuel Álvarez Bravo and Garry Winogrand. The most memorable shows Helmut Newton in Hollywood in 1985, camera at the ready and the Chateau Marmont in the background. As befits a man known for his provocative images of sometimes naked women, he wears swim trunks and seems to be doing his best to strike a sexy pose.
In the hurly-burly of today's overheated art market we can forget the devotion to art and artists that guides, initially at least, the best art dealers to their calling. Art dealers can too. This exhibition reveals it afresh, in the form of art itself, usually with touching modesty. The realization of limited potential or a lack of commitment to push forward may have lurked just around the next corner from most of these pieces. But it is nice to think that whatever was learned in making them has, or could be, put to good use somewhere else.
"Don't Quit Your Day Job" is on view through Aug. 19 at Hasted Kraeutler, 537 West 24th Street, Chelsea; (212) 627-0006, hastedkraeutler.com.