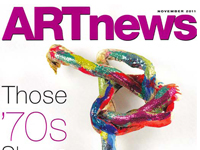 ARTnews
Michael Benson
Nov 01, 2011
by Vicki Goldberg
Hasted Kraeutler
Some of the most beautiful and important photographs ever taken turn out to be images of outer space. These have been able to change, and in many instances form, our ideas about the universe. So it is with a shiver of awe that we view Michael Benson's large, digitally composed photographs based on pictures captured by robotic space probes such as Galileo, Voyager, Pathfinder, Magellan, Viking. Images of the looming white globe of Uranus embraced by delicate rings, a bright crescent Neptune and its small curved moon, and Saturn with its rings sliced apart by the planet's dark shadow, all appear against the profound blackness of space.
Only robot surveyors have "seen" these phenomena firsthand, and only in photographs could we possibly see them in such astonishing detail. Benson searched through space agencies' archives and made some mosaic and successive fly-by-images into seamless single pictures. He had them printed in color -pictures that were taken three times through three colored filters but transmitted to earth in Blank and White - and then enlarged them to a size that speaks of the power of these desolate or frozen, fiery or churning worlds.
These photographs serve as a reminder, if one is needed, or how small we are and of how incapable we are of crossing such spaces ourselves. Benson has very cleverly found a way to map them for us. The photographs are also powerfully presented in Benson's book Beyond: Visions of the interplanetary Probes, published by Harry N. Abrams in 2003.