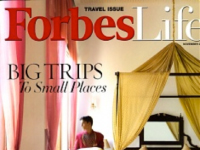 by Stephanie Cooperman
The Richard Avedon sale on November 20 at Christie's Paris--who will come away with the master's Dovima with Elephants?--is the highlight of a lively season for photography collectors.
On a hot August day in 1955, Richard Avedon took the model Dovima to the Cirque d'Hiver in Paris, dressed her in an evening gown designed by Christian Dior's new assistant, Yves Saint Laurent, and stood her in front of some rather restless elephants. The result appeared in Harper's Bazaar and soon became one of the most iconic images of fashion photography. Avedon himself kept a giant exhibition print hanging in his Upper East Side studio for years.
On November 20, that print, as well as 64 others from the Richard Avedon Foundation, will be on the block at Christie's, Paris, in one of the most hotly anticipated auctions of the year. Dovima with Elephants is estimated to fetch between $500,000 and $700,000.
Photography, once relegated to the fringes of the art world, is enjoying a surge of popularity--and the auction prices that come with it. Christie's and Sotheby's took in a combined $26.9 million in photography sales in the first half of this year alone, up from $16.1 million in all of 2009. "A photograph is time frozen, not time interpreted like a painting, and that's what attracts people," says Sarah Hasted, cofounder of New York's Hasted Hunt Kraeutler Gallery. "Everyone can look at Dovima and agree it's beautiful. Yet it's a moment that can't be re-created."
Though many art collections now include photography, until relatively recently the medium was largely overlooked. Alfred Stieglitz was a pioneer, opening the Little Galleries of Photo-Secession in New York in 1905; in the 1950s Helen Gee displayed photos in her Greenwich Village coffeehouse, but even at $20 each, few sold.
It wasn't until two decades later, when dealer Harry Lunn created the limited-edition print, that the modern photography market was born. When he learned Ansel Adams wouldn't produce any more prints after 1975, Lunn ordered 1,000 for an average of $300 each. Moonrise, Hernandez, New Mexico, 1941, an Adams photograph of a modest village under a dominating black sky, became sought after because of its stark beauty and the difficulty surmounted to capture it. (Adams said he used the luminance of the moon to calculate the proper exposure.) In 1998, a print of Moonrise sold for $20,700. In 2006, one sold for $609,600. Lunn was so successful in creating a tight market for Adams' work that any word of new prints still causes instant buzz: Last summer, a California painter bought several dozen glass plates at a garage sale for $45 and then claimed they were lost Adams negatives. Adams' estate contested their authenticity, but the owner and his appraiser put their worth at more than $200 million.
Over time, the definition of what collectors consider valuable has expanded. Vintage prints remain in high demand because of their perceived link to the artist and because some materials, such as the paper stock, may no longer be available. Although wall-size color photographs are generally not as in-demand as delicate black-and-white prints, Andreas Gursky's 99 Cent II, Diptych, a color photo of racks of candy inside a discount store, holds the record for the highest price paid at auction for a photograph--Sotheby's sold it for $3.3 million in 2007.
Auction houses have long had success holding single-owner sales, in which all the lots originate from one collection. In June, Sotheby's sold the Polaroid Corporation's collection, and works by Robert Mapplethorpe, Andy Warhol, and Chuck Close blew past their high estimates. And Dovima with Elephants could set a new auction record for Avedon. Sarah Hasted thinks the prices for his work, and for photography overall, will keep increasing. She recently sold a smaller Dovima to a collector. "I told him to update his insurance," she says. "I don't think photography has seen its golden age, but it's coming."