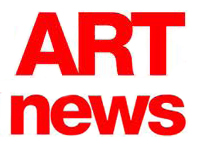 ARTnews
Addressing the Queen
Feb 21, 2012
By Elizabeth Fullerton
An anachronism to some, keeper of a precious heritage to others, Britain's Queen Elizabeth II has inspired a surprising diversity of artists. To mark the Queen's Diamond Jubilee, celebrating her 60th year on the throne, the National Portrait Gallery in London has brought together some 60 iconic portraits by photographers and artists ranging from Lord Snowdon and Andy Warhol to Lucian Freud and Kim Dong Yoo.
The exhibition, "The Queen: Art and Image," opens at the National Museum Cardiff on February 4 and the National Portrait Gallery on May 17, following stops in Edinburgh and Belfast last year. Through representations of Elizabeth, it charts a course across recent British history and art, against a backdrop of the realm's shrinking empire, social upheaval, and the Internet revolution.
"It's about how changing images of the Queen act as a kind of lens through which to see changes in our society and changes in artistic values," says exhibition curator Paul Moorhouse.
The show moves from majestic portraits by Pietro Annigoni and Cecil Beaton of the young queen in her regalia to more relaxed domestic scenes from the 1960s. With Gerhard Richter's blurred 1966 portrait, the depictions become more questioning.
But it was Jamie Reid's 1977 poster defacing the Queen's image for the Sex Pistols single "God Save the Queen" that shattered the deference forever, Moorhouse says. "It does seem to unleash something in the response of contemporary artists, who are also more critical from that point."
Warhol's glitzy silk screens from 1985 and Hiroshi Sugimoto's 1999 photo of a waxwork Elizabeth imply a lack of substance behind the regal veneer. And royal supporters took umbrage at Justin Mortimer's 1998 painting showing Her Majesty's head floating above her body, as well as Freud's lumpen 2001 portrait of the Queen. Among the more controversial works is Kim Dong Yoo's Elizabeth vs. Diana (2007), made from 1,106 tiny pictures of Princess Diana.
British Guyanese artist Hew Locke says traditional "sycophantic" images of the Queen make him physically sick. His sculpture Medusa (2008) is composed of beads, bugs, trash, and toys. "Obviously it's a portrait, but it's something much more than that. It's a kind of dark talisman, it's about the state of the nation," Locke says.
As a portrait of the nation, the exhibition captures seminal moments in British consciousness like Princess Diana's death, encapsulated in a press photo of Elizabeth and Prince Philip surveying floral tributes outside Buckingham Palace.
Chris Levine's haunting holographic portrait of the Queen resting her eyes, Lightness of Being (2007), is on the show's promotional poster. Levine explains that it was inspired by meditation. "I was trying to create that sense of stillness. When she shut her eyes, it was kind of meant to be," he says of his photo shoot with Elizabeth.
The historian David Cannadine, who contributed an essay to the exhibition catalogue, suggests that the Queen "is probably the most visually represented human being ever to have existed in the entire history of the world," if one includes coins, stamps, and media imagery. Yet her real persona remains an enigma, and the exhibition makes no pretense of solving it.
"All you really have of the Queen is images," says Moorhouse. "You never have an intimation of what she's like as a person."