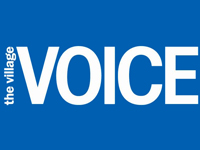 Village Voice
NICK BRANDT OPENING: "ON THIS EARTH, A SHADOW FALLS"
Mar 30, 2012
by Natalie Marcoux
March 29 marked the opening of Nick Brandt's photographic exhibition "On This Earth, A Shadow Falls" at Hasted Kraeutler Gallery, hastedkraeutler.com. The show runs from March 29 to May 19 and includes works from a decade of Brandt's photographic journey through Africa.
Nick Brandt photographs endangered species all over the African continent. When viewing these breathtaking images it's hard not to feel the pain of the subjects and see the emotions, which are so vividly captured in Mr. Brandt's work. Every photograph is painstakingly perfected with every frame, which is not shot with a telephoto lens. He gets up close and personal, sometimes waiting weeks for one photo, in order to reveal the personality of every animal treating every subject as you would treat a human.
One must go to the gallery and see the images, it could quite possibly change your life.