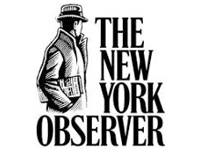 New York Observer
Kwang Young Chun to Hasted Kraeutler
Jul 12, 2012
by Andrew Russeth
Chelsea's Hasted Kraeutler just sent out a note stating that it now represents Seoul–based artist Kwang Young Chun in the United States. The gallery will have open a show with him Sept. 6.
Kwang Young Chun is perhaps best known for sculptures and wall-hung works that are comprised of scores of minute pieces of mulberry paper that he folds into complex shapes and accumulates into larger forms.
Born in 1944, the artist has had solo shows in New York at Michelle Rosenfeld Gallery, Kim Foster Gallery and Robert Miller Gallery, and has had one-person exhibitions at a number of international museums.
Those hoping to take a look at the artist's work can head to Eberdingen-Nussdorf, Germany, where it is on view with at the Kunstwerk, a private museum that shows work from the collection of Alison and Peter W. Klein.