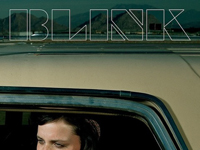 BLINK
Interview with Awol Erizku
Sep 01, 2012
Interview by Juan Bonilla

Hello Awol. Introduce yourself.
Hi, I'm Awol Erizku, an artist, living in New York City. I like to wear a lot of black (not so much in the summer though).
When did you decide to become a photographer?
When I was real young I had the moment while I was sitting in front of a photograph of Lil' Kim by David LaChapelle.
Can you talk a bit about some of your work over the years?
I guess you can say my work is like one big puzzle. I make photos, videos, sculptures, and even paint on occasion. They all have this underlining theme, a critique, if you will on the lack of people of color in Art History. Most importantly, it's a celebration of beauty and youth. My work is still growing as I am growing and being exposed to new people and lifestyles, but all in all, I think it will all come together to form one big picture.
You have held your first solo show which opened last June, at Hested Kraeutler Gellery in Chelsea. How's the exhibition?
The show was great! The opening night was crazy! I got to work with my friend DJ Melo-X to make it probably the best opening of the year. We managed to pack the gallery wall to wall. I think people just came to see Melo-X perform, haha.
Congrats again! Who are the peple in the photos you exhibited in the show?
They're now people I consider friends, but at one point they were all strangers I came across on the street, blogs, and Facebook. They're all cool as I've come to realize; Joshua Kissi and Travis Gumbs of Street Etiquette, Ruqayyah Albaari, AV Rockwell, and Meriem Erizku, are amongst the hand full in the show.
What made you mix traditional Renaissance with urban chic?
As a New Yorker, I think I was drawn to make work about the people who I saw on a regular basis. I'm only filling in the blanks in art history where I feel like it's missing color.
How do you conduct the relationship with your subjects?
I usually introduce myself at first, complement them, and ask if they would like to be photographed. They usually ask for work and I direct them to my website, or show them on the spot if I have my iPad. Once they agree to it, we exchange numbers, and I follow up with them. We'll hang out a few times and I get to know what they're like so I can determine how to photograph them. Throughout this process, we become close which allows me to collaborate with them on almost any level.
Can you tell me an interesting story about any of the images featured?
The pigeon on 'The Girl with a Pigeon' is real. My sister Feruz and I happened to be walking to our parents' house in the Bronx one afternoon when we came across a slaughterhouse that sold chickens, ducks, turkeys, sheep, goats, and strangely pigeons which are ubiquitous in New York. Around that same time, I was in the process of finalizing the last bit of detail for a photograph I was working on for Ruqayyah (the model for the photograph). In passing I mentioned it to my sister that I was somewhat stuck on one last detail for an image. A few days later, my sister showed up to my studio with two live pigeons, a white one and a gray one. She said they don't sell them alive, had to pay extra for them to be alive but I think you can use them as one of your signifiers. Not knowing if Ruqayyah would be up for holding a live pigeon, my friend Adrian and I tested shooting the pigeon on a green screen, during this process, the white one refused to eat or even fly. We let him go and convinced Ruqayyah to hold the other, the rest is history.
What equipment do you use?
I use 4x5 and medium format film cameras to make pictures, usually one strobe as a light source, and I use Photoshop to prepare my images for print.
What is your greatest source of inspiration?
As corny as it sounds, my family is the greatest source of inspiration.
Are there any photographers you admire, or artists that inspire your work?
I like the works of Jeff Wall, Richard prince, Phillip-Lorca diCorcia, and David Hammons.
What is your art theory?
Good art can change the world.
What would you do if you could not make art?
I seriously have no idea! I hope this art thing works out, hahaha!
What are your plans for the future?
Launch big ships in deep water.