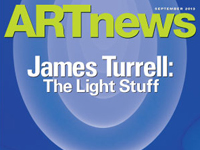 ARTnews
PAOLO VENTURA
Sep 01, 2013
Written by Doug McClemont
This atmospheric and nostalgic exhibition consisted of two
parts. Installed in the main room of the gallery was "The Infinite City," in which Paolo Ventura's small, altered photographs hung in groups of five or ten above several dozen drab but charming wooden buildings huddled together along the floor.
Inspired both by his travels on New York City's above ground train lines as well as by Italo Calvino's writings, the Italian artist built and painted a group of small, unpopulated buildings, ranging from hotels to tenements. He then photographed the sculptures and painted, stamped, typed, and drew over the 4-by-5-inch images and displayed them horizontally in individual frames- at times placing the arrangement at a 90-degree angle in the gallery's corners. The intriguingly cryptic images, all created in 2013, appeared to be painted memories of a desolate abandoned city.
In the rear gallery, an exhibition within an exhibition told the tale of "The Magician" in photographs. From the handwritten poem on the wall by Ventura, we learned that a magician, while performing a disappearing trick on a young male assistant, discovers to his dismay that the boy has actually vanished. The wall text ends with the line: "In the fog of Milan he sought in vain, and only in dreams saw the kid again."
This dark-but-poignant tale is retold visually in a series of photographs, with the artist and his real-life son playing the roles in front of painted backdrops (which were also on displaying the exhibition) complete with vintage costumes and painted rosy cheeks, and with considerable theatrical flair. Ventura's multilayered, but essentially photo-based practice comes from a personal history rich with charisma and angst.