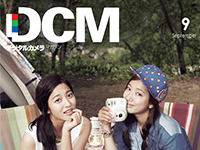 DCM
Exhibition: Total Contrast of Black and White
Nov 15, 2013
By Lee Yejin
Nathan Harger's first Korean solo exhibition will take place at Gallery K.O.N.G. from September 11th until October 10th. Nathan Harger was born in the United States, but is celebrated internationally for his photography. Through this exhibition, Harger invites us to appreciate the beauty that results from the heightened black and white contrast of his photographs.
Harger's new work encourages the viewer to see every day life in an extraordinary way. The subjects of his work include freeways, cars, factories, planes, and products of industrialization, such as urban infrastructure facilities. Common views of the city are outlined in black, and the background is a layer of blinding white. The strong contrast of the of the two emphasize the beauty and form of the shapes rather than the functional role of the facilities.
For this exhibition, Nathan Harger plans on traveling to many cities in Korea to get inspiration for his future work. He has a knack for turning bland, every day subjects and highlighting the previous unappreciated beauty of their aesthetics. I am looking forward to his fresh take on Korea's cityscape.